DRIVE AWAY 2DAY believes in giving people second chances. Bad credit, no credit, repossessions or bankruptcies? We understand life can be challenging and hardships can fall on anyone. We can help you get you approved with one of our many Guaranteed Credit Approval programs. Our easy to follow 3-step process will get the ball rolling on securing the dependable vehicle that you need and WANT. Based on the terms and financial limits you set, you can be driving home 2Day in the car of your dreams.
DRIVE AWAY 2DAY understands that purchasing a vehicle in these tough credit markets can be discouraging and time consuming. That's why we take the grunt work out of it for you. Our qualified team of vehicle professionals will take your information and develop a deal that is right for you, regardless of past credit decisions. We believe everyone has the right to drive a car they are proud of. With over 30 years of experience in automotive purchasing, we feel we are more than competent to put a deal together that is right for you.
Acura, Audi, BMW , Buick, Cadillac, Chevrolet, Chrysler, Dodge, Eagle, Ferrari, Ford, GMC, Honda, Hummer, Hyundai, Infiniti, Isuzu, Jaguar, Jeep, Kia, Land Rover, Lexus, Lincoln, Mazda, Mercedes-Benz, Mercury, Mitsubishi, Nissan, Oldsmobile, Peugeot, Pontiac, Porsche, Regal, Saab, Saturn, Subaru, Suzuki, Toyota, Volkswagen, Volvo and More...
Call us now and we will help you Drive Away 2Day! (800)871-1933.
1960 Omega Jaguar Special : Classic Cars
During the 1950s and 1960s racing specials were a common sight at race meetings in Europe and the US where they competed head to head with considerable success against the very best that the mainstream auto manufactures could offer. Often hybrids by design, these specials were built from combinations of the preferred equipment available to the motoring public from their era, and are generally one-of-a-kind, often amounting a colorful history competing against household names from the motorsport industry.
This particular car is a Jaguar-power special built during the winter of 1959 by John Wilks and first campaigned in 1960 at the Stapleford, Essex hill climb by Mr. Wilks himself.
It is a tubular space-framed in construction, with an all aluminum body. During most of its career it has been motivated by a Jaguar 3.4L powerplant with 3 SUs, a Jaguar (Moss) gearbox, early Austin Healey rear axle on uniball jointed trailing arms and 'A' Bracket, double-wishbone front suspension, front disc brakes, rear drum brakes, rack & pinion steering, and 16 inch wire wheels. For the period of its construction, it was a decidedly modern equipment package. It was a sports racing car in nature, and road registered on 6 RPE plates.
John Wilks was a 750 formula racer of some repute, but in 1959 he built this more potent special. Initially it had a 2.6 litre MG engine and gearbox, but after a few hillclimbs Wilks found he needed more power. "I grafted on a Zoller supercharger (off Goldie Gardner's 1.5 litre record-breaker)", said Wilks, "but at Brighton speed trials the blower drive disintegrated."
During the winter of 1961/62, the 3442cc Jaguar engine from a crashed MkVII was fitted. At one time it had independent rear suspension, using the driveshaft as the top transverse link, and in that form it was used for one "very frightening" race at Brands Hatch. An Austin Atlantic axle was later used and the car was campaigned in all forms of competition, from Formule Libre races at Silverstone and Snetterton to the Brighton Speed Trials and hillclimbs at Prescott.
In 1963, the Omega was bought by John Miles (later a Lotus F1 driver). Miles raced the car at Debden, and won his class before selling it to Eric Liddell, who owned it for a few months before selling it to Stanley Morrison of Glasgow, who had Graham Birrell's garage look after it. It is thought that the Birrells also raced it.
Stanley Morrison, the forth owner, competed in it twice but found the Omega to be too capable for him. While he owned it Sir Jackie Stewart drove it once, and his account of the events are described in a letter from him within the historical file.
In late 1967, while in Glasgow for Christmas, long-term owner Chris Wilson searched for the car, found the owner, Tim Morrison, and bought it from him. After some work on the car (it was missing the front wings and headlamps), Mr. Wilson drove it from Scotland, down to Chris and his wife's house in Essex. Chris was 23 years old, newly married, and with little money. He and his wife used it to go to work in (to the Ford R&D Centre, Essex) and used it for one or two trips before taking off the road in late 1968. They then kept it off the road until they could afford to restore it.
In 1985 Mr. Wilson dismantled the car and a toolmaker friend, Bob Head, restored all the mechanical components, excluding the gearbox and the differential, which were outsourced. The instruments were restored by an instrument restorer.
In 1987 the components and the chassis with its bodywork were then given to Buskell Engineering who then removed the body, checked the chassis and repainted it. Mr. Wilson's major objective in the restoration was to have it restored without any changes from the original form. The same approach was taken throughout – for example the original instruments were restored and their position in the dash exactly retained. The body was painted and the car re-assembled. The car was finally back on the road in 1995.
Chris and his wife used the car for about 1000 miles. Some years later, in 2003 Chris had the gearbox overhauled again by Alan George (top Moss gearbox expert). Mr. Wilson also obtained the correct 3.66:1 differential ratio. In 2009 Don Herridge re-fitted the back-axle and gearbox, re-positioned the headlamps to the correct (lower) position, and prepared the car for the road. The car was back on the road in early 2009, and had done about 300 miles before being sold in 2010 the present owner, a North American based and highly respected Jaguar "C Type and "D Type" expert.
Cosmetically, the car presents very well. The paintwork makes a strong impression, and the hand formed body is in good order. The interior is nicely trimmed in high quality upholstery, which is further complemented by the fitment of period Smiths mechanical instruments.
The Omega is in good mechanical order as well. The cars starts easily, revs freely, and has a decidedly competition feel to the driving experience. The 3.4L engine supplies more than enough torque and horsepower to keep even the bravest and most talented driver's attention, and thankfully, it has disc brakes on the front corners. Its small size, and lightweight, minimalist, aluminum body further enhances the power to weight ratio. Ergonomically speaking, form clearly followed function, and the layout of the car was primarily based around mechanical requirements and weight distribution.
Truly a well documented period Special, included with the car are many period photos, a letter from Sir Jackie Stewart noting his involvement with the car, key quotes from previous owners describing its history, their involvement, and driving impressions, the Omega's competition history, the Omega's competition press cuttings, programs from two events, a 750MC Bulletin dated April 1964, A historical summary and list of specifications, letters and transcripts from John Wilks, letters from Stanley Morrison, letters and notes from Eric Liddell, Chris Wilson's summary: "My life with the Omega", press cuttings from Bill and Phil Buskell, an article in Classic and Sports Car, letters from Doug Nye a draft of the FIVA application, notes from Alan George – gearbox expert, copies of the UK Registration documents & some insurance documents, and invoices dating back to the 1980s.
By virtue of its 1960 completion date, the Omega is eligible for some of the world's premier road rally events, not the least of which is the Colorado Grand, where this special-motivated by the torque of the Jaguar straight-six, is sure to be a brisk and spirited ride. Alternatively, it is also eligible for a great number of historic racing venues where it should prove competitive among cars from the late 1950s and early 1960s, and will certainly be an interesting conversation topic within the paddock.
Contact Fantasy Junction
Website
|
Facebook
|
Twitter
|
Email
Contact Jaguar
Website
|
Facebook
|
Twitter
|
Google+
|
YouTube
Sources
:
1960 Omega Jaguar Special Photo
|
1960 Omega Jaguar Special Article
|
1960 Omega Jaguar Special Photo 2
|
1960 Omega Jaguar Special Engine Photo
|
1960 Omega Jaguar Special Interior Photo
|
1960 Omega Jaguar Special Interior Photo 2
|
1960 Omega Jaguar Special Rear Photo
|
1960 Omega Jaguar Special Front Photo
Galpin Auto Sports (GAS) : Tuners
"Galpin Auto Sports customizes ALL makes and models on ANY budget!
From window tinting, supercharging, specialty customizing, mind blowing gadgets and jaw dropping color creations, to a one of a kind retail experience, Galpin Auto Sports is a one stop Shop for all your automotive needs.
Our dedicated and passionate crew looks forward to your visit and here is to answer questions and brainstorm the conception your next vision."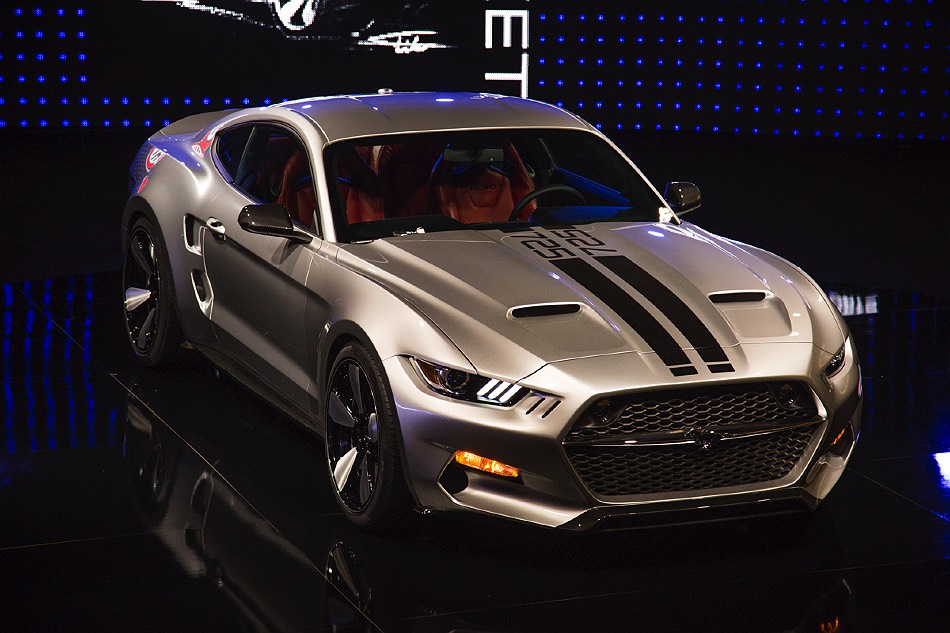 Galpin Auto Sports (or GAS) is an American automobile dealership and automobile repair shop located in Van Nuys which specializes in customizing and remodeling vehicles specifically for their drivers. They also provide spare parts. The shop was founded in 1946 by Frank Galpin and later purchased by Bert Boeckmann.
Galpin Auto Sports is the car garage featured on the USA version of MTV's Pimp My Ride hosted by Xzibit. The show was moved from West Coast Customs to GAS in the 5th and 6th season. They also own a second-hand car shop. On site at the main garage is an extensive array of customized cars which can be bought direct from the garage.
GAS's work can also be seen on the new television show Knight Rider. They were asked to create the star of the show, a new version of the 2008 Ford Mustang called the GT500KR. "GAS had one week to create the new KITT, and they pulled out all the stops. Six people worked full time to create the Mustang that would be sent over to Picture Car Warehouse as the father of all the KITT derivatives and stunt cars."
"Galpinized" custom-designed vehicles have won national attention and awards. Galpin Motors is the number one volume Ford dealership in the world, and "the top California car dealer(s) with more than $700 million in annual sales", including well-known auto brands such as Ford, Lincoln, Mazda, Jaguar, Volvo, Aston Martin, Lotus, Honda and Subaru.
Contact Galpin Auto Sports
Website
|
Facebook
|
Twitter
|
YouTube
Sources
:
Galpin Rocket Prototype Photo
|
Galpin Rocket Photo
|
About Galpin Article
|
Galpin Article
Lotus Elise 20th Anniversary : Current Models
The Lotus Elise 20th Anniversary Special Edition has been revealed to mark the launch of the Elise at the Frankfurt motor show in September 1995.
The Elise 20th Anniversary is based on the Lotus Elise S Club Racer and is 10kg lighter than the standard car, bringing it in at 914kg. It hits 62mph from rest in 4.6sec and has a top speed of 145mph. Fuel economy is rated at 37.5mpg.
Standard equipment includes lightweight matt black forged wheels, a lightweight centre console in body colour and lightweight sports seats in leather or Alcantara with colour-coded stitching.
The car also has a Sport mode to improve throttle response and alter the traction control slip thresholds.
Buyers can choose between four colours - blue, green, yellow and silver - with the rear diffuser, wing mirrors, roll hoop cover and back section of the car painted matt black.
The 20th Anniversary costs £39,900 - a rise of £2700 over the Elise S, but with what Lotus claims is an additional £5150 of standard kit included.
Contact Lotus
Website
|
Twitter
|
Facebook
|
YouTube
Contact AutoCar
Website
|
Facebook
|
Twitter
|
Google+
|
YouTube
|
Subscribe
Sources
:
Lotus Elise 20th Anneversary Edition Photo
|
Lotus Elise 20th Anneversary Edition Article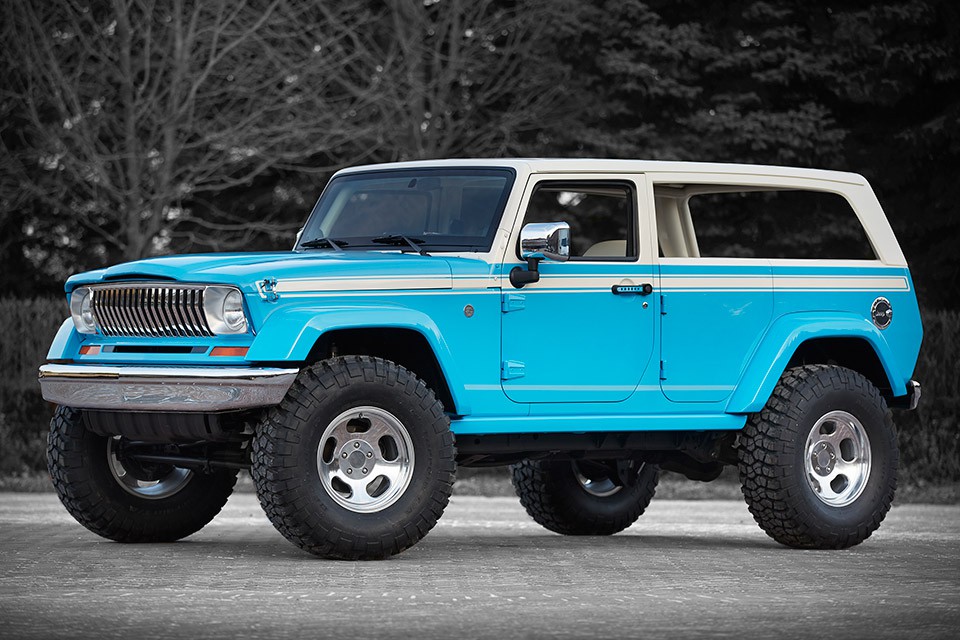 Jeep Chief : Concept Cars
Moab, Utah isn't the type of place where man can thread lightly. Mountains, deserts, trails and the Canyonlands National Park are pretty hard to tackle without the right 4x4 machine. For this reason, an iconic brand uses Moab to showcase how off-road capable a Jeep is.
For the 49th Annual Easter Jeep Safari, the Fiat-Chrysler Automobiles-owned company made no less than seven concept vehicles. That's one up over last year's six and trust me - the seventh dram machine is the one that really counts.
Baptized Jeep Chief Concept, this offroader has what it takes to climb every mountain and ford every stream. Inspired by the classic, original Cherokee, the Chief is also a nod to the west coast surfer lifestyle, mostly because of that Ocean Blue paint and white French Bread roof.
Some may be tempted to call the Jeep Chief as being... ahem... groovy, but then you look at the a custom modified razor grille made famous by the Wagoneer. Speaking of the old-timer, there's a new Jeep Grand Wagoneer in the pipeline.
Now back to the Jeep Chief Concept. 17-inch slotted mag wheels are on the menu as well, joined by Surfer pink, blue and white flowered cloth and leather-trimmed seats on the inside. This is where it gets kind of too vintage: surf stickers on the center console, a Rosewood front-passenger grab handle and a tiki-style shifter handle are other highlight cabin details.
Regarding the oily bits, things can be summed up as same old, same old. A two-inch lift kit with Fox shocks and front and rear Dana 44 axles with lockers enhance its off-road capability, while a 3.6-liter Pentastar V6 mated to a 6-speed stick shift take care of propulsion duties.
Contact Jeep
Website
|
Facebook
|
Twitter
|
Google+
|
YouTube
|
Blog
Contact Autoevolution
Website
|
Facebook
|
Twitter
|
Pinterest
|
Tumblr
|
Google+
Sources
:
Jeep Chief Photo
|
Jeep Chief Article
Porsche Seeks A "Connected" Car : News
Porsche is known for great engineering, but it's usually the type that leads to fantastic engines and sublime handling, rather than cutting-edge infotainment systems. The company wants to alter that balance in the future to put a greater emphasis on connectivity in its models.
Porsche Cars North America COO Joe Lawrence outlined the brand's goals during a speech at the Bloomberg Innovation Forum in Atlanta, according to Automotive News. "Recognizing the phone is so ubiquitous in every sector, how do we integrate that into driving experience in a way that is safe and enjoyable?" he said. Lawrence suggested the company might be working with Google and Apple on future solutions.
Even if Porsche is working on making more tech savvy models, don't expect the company to forget its roots. Brand boss Matthias Müller also broached connectivity during his recent speech at a conference and said the sports car business' customers didn't want "a smartphone on four wheels." He promised investments in research and development to come up with an answer.
In the same speech, Müller strongly suggested fully electric Porsche models were on the way and also announced a seventh model line coming in the future. Lawrence reiterated the company's future, as well, in his address. "We will see further electrification of our product line," he said, according to Automotive News.
Rumors of Porsche building a Tesla-fighter have been circulating as of late. The vehicle is possibly in the body of the smaller Panamera called the Pajun, and it could offer a 300-mile range with an electric motor at each axle kicking out a reported total of 600 horsepower.
Contact Porsche
Website
|
Twitter
|
Facebook
|
YouTube
|
Flickr
|
Pinterest
|
Google+
Contact Autoblog
Website
|
Facebook
|
Twitter
Google+
Sources
:
Porsche Photo
|
Porsche Article