2015 Toyota Prius : Current Models
Toyota likes to call the Prius iconic. We suppose it probably is iconic to a certain segment of the car-buying public. So what could be better than a lighter, less expensive, and smaller version? One that can then spread the Hybrid Synergy Drive gospel to first-time car buyers, who can then move up into the mainline model for their next purchase? In fact, Toyota has offered just such a car, the Prius C, for a couple of years.
It's now been updated for 2015, but we're not sure the changes will do much to raise its profile. You see, the Prius C is an underperformer in several areas. Its hybrid powertrain uses a wheezing, 73-hp, 1.5-liter four-cylinder mated to an electric motor and a CVT; total system output stands at a meager 99 horsepower. To help achieve its impressive 50-mpg combined fuel-economy figure, the Prius C packs regenerative braking and electric power steering. It can travel an entire mile on electric power alone.
Besides Normal and EV modes, the C, which is based on the Yaris platform and is unrelated to the regular Prius, also offers an Eco mode. It can "help optimize fuel economy when you're willing to give up some throttle response and don't need the air conditioner to be ice cold," the press materials explain with remarkable frankness.
For the 2015 model year, Toyota has introduced new fabrics and patterns inside the cabin and mixed up new paint colors that include Electric Lime Metallic, Tangerine Splash Pearl, and Sparkling Sea Metallic. The taillights have been redesigned to incorporate light pipes, and the headlights are executed entirely in LEDs. Toyota also reworked the front fascia with a new gaping-mouth grille at the center flanked by auxiliary lights that resemble upside-down keyholes. It's not particularly well executed to our eyes, and the grille looks out of place with the rest of the design.
The 2015 Prius C comes in four trim levels called—wait for it—One, Two, Three, and Four. The first level is rather well equipped with the aforementioned LED headlights, automatic air conditioning, and keyless entry. Level Two adds cruise control, a split-folding rear bench, better speakers, and some additional trim. The Prius C Three gets premium audio and a navigation system, as well as push-button start. Finally, the Four includes heated seats, a backup camera, a sunroof, and higher-grade interior materials.
Yet even turned up to Four, the Prius C can't escape its somewhat pedestrian roots. One piece of evidence is the conventional-looking transmission shifter, which is a long, narrow metal stick. Larger Prius models (including the Prius V) feature a futuristic gear selector on the dashboard. When we tested the Prius C a couple of years ago, we summed it up thusly: "It has wheels and gets good gas mileage." That's still true.
Contact Toyota
Website
|
Twitter
|
Facebook
|
YouTube
|
Google+
Contact Car&Driver
Website
|
Facebook
|
YouTube
|
RSS Feed
Sources
:
Prius Photo
|
Prius Article
Lamborghini Aventador Pirelli : Concept Cars
Lamborghini offers buyers incredible levels of performance combined with angular, avant-garde styling That grabs everyone's attention. Now, the Italian brand is giving its customers the chance to flaunt their supercars even more with a new Aventador Pirelli Edition.
Designed to celebrate Lamborghini's relationship with Pirelli that goes back to the tires on the original 350 GTV prototype, these special-edition Aventadors keep all of the high-performance mechanicals and add a little extra to show off in two available looks. The first paints the roof, pillars, mirrors, engine cover and intakes matte black and gives the body a high-gloss finish in the buyer's choice of six colors. Alternatively, the supercars can have gloss black for those portions and paint the rest of the bodywork in a choice of four matte shades. Either the coupe or roadster can be ordered this way.
Regardless finish, all of these Aventadors get a thin, red stripe over the roof, engine cover, mirrors and air intakes. The whole look is completed with red brake calipers (yellow for Rosso Mars models) and gloss-black wheels. As should be obvious, these editions wear the Pirelli tires, specifically P Zeros.
The interior carries the motif inside. The seats are clad in black Alcantara and feature red stitching along with Lamborghini and Pirelli crests on them. The red stripe from the outside also covers the ceiling and seats, too. Naturally, a plaque identifies these models as part of this special-edition series.
The Aventador's usual mechanical bits hide underneath the two-tone look, meaning each is powered by a 6.5-liter V12 pumping out 691 horsepower with power going to all four wheels. The Pirelli Editions are available for order now and deliveries start in the early summer of 2015.
Contact Autoblog
Website
|
Facebook
|
Twitter
Google+
Contact Lamborghini
Website
|
Facebook
|
Twitter
|
Google+
|
YouTube
|
Pinterest
|
Linkedin
Sources
:
Lamborghini Aventador Pirelli Photo
|
Lamborghini Aventador Pirelli Article
Older Cars Dangerous For Teens : News
When shopping for a safe car for their teens, parents might want to aim for the newest model they can afford, a new study suggests.
Researchers found that that almost half of the teenage drivers killed on the roads in the past few years were driving vehicles that were 11 or more years old and lacking key safety features found in newer models, according to the study, published online in the journal Injury Prevention.
"We know that many parents cannot afford a new vehicle," said the study's lead author, Anne McCartt, senior vice president for research at the Insurance Institute for Highway Safety. "Our message to parents is to get the most safety they can afford."
McCartt and her coauthor analyzed data from 2008 to 2012 from the U.S. Fatality Analysis Reporting System, which included information on 2,420 drivers ages 15 to 17 and 18,975 drivers ages 35 to 50.
Among the teens who died, 64 percent were in a car, 29 percent in a mini or small car, and 35 percent in a mid-size or larger car. Most of the teen drivers who were fatally injured — 82 percent — were in vehicles that were at least 6 years old, while 31 percent were in vehicles 11 to 15 years old. For comparison, fatally injured teens were almost twice as likely as their middle-aged counterparts to be driving a car that was 11 to 15 years old.
The most startling statistic: Nearly half of the teens who died — 48 percent — were in a vehicle that was at least 11 years old.
What the researchers don't know is what percentage of teens drive older vehicles. So they can't say that the data prove that older vehicles are increasing the risk of death in teenagers.
Still, there's good reason to suspect that teens would be safer in newer cars, says Tony Fabio, an assistant professor of epidemiology in the graduate school of public health and director of the Center for Injury Research Community Action at the University of Pittsburgh Medical Center. Fabio is unaffiliated with the new study.
"We know that teens are less likely than adults to be wearing seat belts and that may be partially because they are driving older cars in which the belts may not work as well," Fabio said. "And you have to think about that in the context of an older car that might not have an air bag."
And while the study doesn't prove that older cars are less safe, it does suggest they are, Fabio says, adding "almost any major public health victory started out with a study that just suggested something wasn't safe."
Ultimately, McCartt said, though newer model cars tend to have more safety features, protecting your teens is not as straight forward as just steering clear of older vehicles. "We did find older vehicles that met our safety criteria," she said.
Still, it's a rare older vehicle that has electronic stability control — an important safety feature that helps drivers keep control in extreme maneuvers, McCartt said. "That's something that is standard on new cars since it was a requirement starting in 2012," she added.
To help parents figure out which vehicle might be best for their teens, the IIHS came up with a list of safe cars which it posted on its website:
http://www.iihs.org/iihs/ratings/vehicles-for-teens
Contact NBC News Health
Website
|
Facebook
|
Twitter
Sources
:
Old Cheap Car Photo
|
Old Cheap Cars Article
DRIVE AWAY 2DAY believes in giving people second chances. Bad credit, no credit, repossessions or bankruptcies? We understand life can be challenging and hardships can fall on anyone. We can help you get you approved with one of our many Guaranteed Credit Approval programs. Our easy to follow 3-step process will get the ball rolling on securing the dependable vehicle that you need and WANT. Based on the terms and financial limits you set, you can be driving home 2Day in the car of your dreams.
DRIVE AWAY 2DAY understands that purchasing a vehicle in these tough credit markets can be discouraging and time consuming. That's why we take the grunt work out of it for you. Our qualified team of vehicle professionals will take your information and develop a deal that is right for you, regardless of past credit decisions. We believe everyone has the right to drive a car they are proud of. With over 30 years of experience in automotive purchasing, we feel we are more than competent to put a deal together that is right for you.
Acura, Audi, BMW , Buick, Cadillac, Chevrolet, Chrysler, Dodge, Eagle, Ferrari, Ford, GMC, Honda, Hummer, Hyundai, Infiniti, Isuzu, Jaguar, Jeep, Kia, Land Rover, Lexus, Lincoln, Mazda, Mercedes-Benz, Mercury, Mitsubishi, Nissan, Oldsmobile, Peugeot, Pontiac, Porsche, Regal, Saab, Saturn, Subaru, Suzuki, Toyota, Volkswagen, Volvo and More...
Call us now and we will help you Drive Away 2Day! (800)871-1933.
1988 Callaway Sledgehammer : Classic Cars
Reeves Callaway likes to make a big impression. When he said he'd drop by our editorial office for lunch, he wasn't kidding -- we all pressed our noses to the glass to see him thread his camouflaged Aerospatiale SA-341 helicopter past chain-link fences and telephone wires to land in a tiny field next to our parking lot.
His products make a big impression too, but of brute acceleration and raw speed. To wit: Callaway's 880-bhp Sledgehammer Corvette, which awed us all by ripping a 254.8-mph hole through the air at Ohio's Transportation Research Center last year. Almost as impressive was that while other more temperamental (and slower) cars at this top-speed shootout were being loaded onto trailers for the trip home, Reeves hopped into the Sledgehammer, cranked up its Delco/Bose stereo system, turned on the air conditioner and then soft-pedaled it back to his shop in Old Lyme, Connecticut.
That's the Callaway philosophy: to fortify with fantastic amounts of power while retaining the docile driveability of the stock car. While the Sledgehammer could be duplicated for roughly the price of a Vail condominium, Callaway Cars is better geared to offer a -endorsed twin-turbo 390-bhp Corvette for $26,895 over the price of the basic car.
Opt for the Sledgehammer-derived Aerobody kit ($6500 installed or available separately), and your newly muscled Vette will turn the corners of your mouth up (as you note the covetous glances from stock Corvette owners) and then pull them back (with accelerative force). To boot, it can be ordered from your local Chevy dealer as RPO B2K and it carries a full factory powertrain warranty of 12 months/12,000 miles. But Callaway claims it'll do "only" 190 mph.
All the inherent goodness of the stock Corvette is left intact in the conversion; Callaway judiciously avoids fixing what's not broken. "The platform's very stable -- it has been since 1984," he says, "so it's very much in the refinement mode. Every year the car comes out, the details are getting better and better."
Details like 17-in. wheels, Goodyear 275/40ZR-17 tires, cockpit-adjustable shocks and a 6-speed gearbox. Add the free-flow mufflers, deeper air dam, power-steering cooler and bigger front brakes of the Z5G Special Equipment Option, and you have the canvas upon which Callaway paints. The lone example of chassis tampering is the swap of stock wheels for distinctive Dymag magnesium wheels of the same size (17 x 9-1/2 in.), for a savings of about 7 lb. per corner.
The roll-up-your-sleeves work begins when the stock 350-cu.-in. pushrod V-8 comes out and Callaway technicians lavish 70-75 hours on the modifications. Balance and blueprint operations are performed, including line-honing of the main-bearing bores and decking of the mating surfaces of block and cylinder heads. The block is remachined to accept steel-alloy 4-bolt main bearing caps, with the outer bolts splayed to thread into a meatier part of the casting. A forged crankshaft replaces the stock cast-iron piece, and 7.5:1-compression Mahle pistons make life under pressure bearable. To cope with the engine's increased demand for fuel, Callaway's Micro Fueler II enrichment system is added to the stock fuel injection.
Twin Rotomaster turbos, with water-cooled bearings and integral wastegates, provide 10.0 psi of boost pressure to twin polished-aluminum air-to-air intercoolers, their welds executed with surgical neatness by Callaway veteran Vinnie DiScipio. A gleaming ram's-horn manifold feeds air back to the intake plenum, redone in wrinkle-finish black. Especially ingenious and space-efficient is the routing of the intake air: From the airbox, it's ducted to a beefier front crossmember, through capped frame rails and then to the turbos' inlets through short sections of silicone hose.
Driveline modifications are few. "It's an incredibly strong car to begin with," says Roger Smith, the firm's managing director. Few were needed, because the 6-speed transmission is hearty enough to take the full wrath of the Corvette ZR-1's engine. A special Centerforce clutch is used whose pressure-plate clamping force is a function of centrifugal force; the faster you spin it, the tighter it grips. A modified Turbo Hydra-matic 400 automatic is available as a $4500 option, groomed for duty with heavier clutches, heat-treated gears, altered shift points and a Laycock overdrive for 4-speed capability.
The exhaust system's backpressure has been lessened since the last time we tested a Callaway Vette (October 1986). Instead of going through two warmup precatalysts and a single larger catalyst, the gases go directly to two high-flow Corvette converters, specially loaded for Callaway by AC with a higher precious-metal content. The upshot is more power than that of the 1986 car (390 bhp versus 345) and nearly 100 lb.-ft. more torque (562 vs. 465), generated at a low 2500 rpm. And it's emissions-legal; the car has EPA certification for all 50 states.
Grins behind the wheel aren't something that can be easily certified, but this Vette certainly gets our stamp of approval. Inside, the first tip-off to the extra power underfoot is the Callaway badge on the center console; there's no boost gauge, and the engine's sound at idle isn't appreciably different from what rolls off the Bowling Green assembly line. But select 1st gear and you'll find the clutch pedal requires a smidgen more effort. Depress the throttle and the song of the turbos finds its way through the firewall, a demonic teakettle-on-full-boil sort of sound, accompanied by an equally intense forward lunge.
Shift quickly to 2nd, so as not to let the turbos spool down too much, and acceleration seems even more forceful. Rear tires bite pavement without a chirp, but full boost and torque resume so quickly that the car rears back on its transverse-leaf suspension like a horse startled by a rattlesnake. Third-gear acceleration is still incredibly strong. Aim for a hole in traffic 10 car-lengths ahead, tip in the throttle and you're there right now; it's how a watermelon seed must feel when squirted from between thumb and forefinger.
With horsepower and torque figures greater than a ZR-1's, comparisons are inevitable. The Callaway's 0-60 time of 5.1 seconds doesn't quite match the ZR-1's 4.9-sec. posting, we suspect largely because of the turbo engine's torque characteristics and the chassis' lack of the ZR-1's 315/35ZR-17 rear tires. At more rarefied, gendarme-alarm speeds, the Callaway starts making up ground: Both cars hammer past the quartermile lights in 13.4 sec., the ZR-1 with a 1.0 mph-higher terminal speed of 108.5 mph. The scramble to, say, 150 mph could make for a very interesting race.
Now the folks at Callaway Cars are faced with the quandary that confronts all manufacturers of exceptional products: What can they possibly do to top this?
Contact Chevrolet
Website
|
Twitter
|
Facebook
|
YouTube
|
Google+
Contact Road & Track Magazine
Website
|
Facebook
|
Twitter
|
Google+
|
YouTube
|
Pinterest
Sources
:
1988 Callaway Sledgehammer Photo
|
1988 Callaway Sledgehammer Article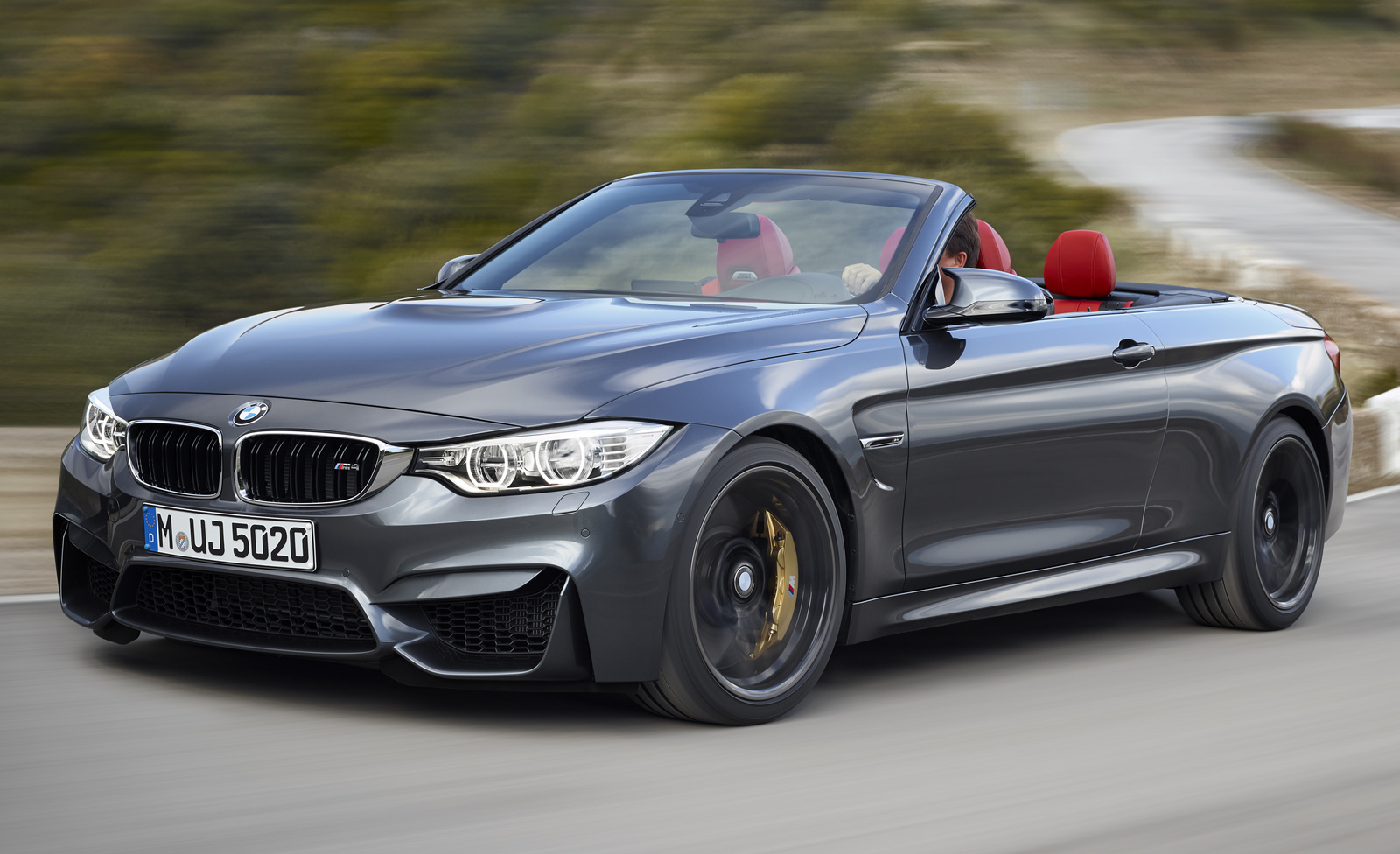 2015 BMW M6, New And Improved : Videos
Earlier today we saw the covers come off the updated 2015 BMW 6-Series, and now we have the full details on the car's high-performance M6 variant. The 2015 BMW M6 is still available in coupe, convertible and four-door coupe bodystyles, but has benefited from some revised styling inside and out, as well as a longer list of standard equipment.
Unfortunately, there haven't been any upgrades made to the car's powertrain, which remains a turbocharged 4.4-liter V-8 delivering a peak 560 horsepower between 6,000 and 7,000 rpm, as well as a peak 500 pound-feet of torque from just 1,500 rpm all the way up to 5,750 rpm. Those seeking even more power can opt for the car's Competition Package, which boosts output to 575 hp.
The M6's superb power delivery allows the big bruiser, which in its lightest form weighs over 4,200 lbs, to accelerate from 0-62 mph in just 4.2 seconds. This figure is identical for both the M6 coupe and M6 Gran Coupe while the M6 Convertible is only 0.1 of a second slower. Top speed for all variants is electronically limited to 155 mph.
Drive is to the rear wheels only, via a seven-speed M-DCT dual-clutch transmission with paddle shifters and rear differential. Steel brake discs are standard, with a carbon ceramic set available as an option.
Visual changes made to the car include the addition of adaptive LED headlights, a more pronounced grille, more aerodynamically-shaped side mirror caps and new 19-inch forged alloy wheels (the M6 Gran Coupe gets a 20-inch set). The aggressive intakes, carbon fiber roof and quad-exhaust tips of the previous model have all carried over.
Inside, you'll find a full list of M goodies such as the custom sports steering wheel, gearshift lever, instrument cluster, new head-up display, enhanced-style iDrive screen and center console in black. The M6 also comes with Merino full-leather interior appointments with contrast stitching, electrically-adjustable multifunction seats, illuminated treadplates and M foot pedals.
As mentioned above, the updated M6 gets more standard equipment. This includes special paint finishes, Merino leather trim, shadow chrome accents and new driver assistance and mobility services offered through the BMW ConnectedDrive infotainment feature. One of these is the BMW M Laptimer app, which is designed to help a driver analyze his or her skills in a closed course environment, and another is the BMW GoPro app, which operates a GoPro action camera mounted somewhere in or on the vehicle.
The complete 2015 BMW M6 range makes its world debut on January 12 at the Detroit Auto Show, with sales to commence in the first quarter of 2015. To see what else will be appearing in Detroit next month, head to our dedicated hub.
Contact BMW
Website
|
Twitter
|
Facebook
|
YouTube
|
Instagram
|
Google+
|
Foursquare
Contact Motor Authority
Website
|
Facebook
|
Twitter
|
Google+
|
YouTube
Sources
:
2015 BMW M6 Photo
|
2015 BMW M6 Article