Ferrari LaFerrari XX : Concept Cars
Just days after Antonello Coletta, head of Ferrari's Sporting Activity Department, confirmed to Australia's Drive that a Ferrari LaFerrari XX is under development and will be launched in 2015, our spy shooters captured a suspiciously XX-like LaFerrari lapping on the Nurbürgring.
Coletta's statement to attendees of the annual Ferrari Racing Days event—held this year in Sydney, Australia—leaves little ambiguity about what's next for the Modena-based automaker: "Now we are working on the new hypercar for the circuit, the LaFerrari XX." For those not in the know, the XX program invites very privileged (and stinkin' rich) Ferrari customers to purchase essentially a turnkey race car and then gives them low-friction opportunities to race it. The first was the Enzo-based FXX, which was followed by the insane and highly modified 599XX.
As for these photos, our shooter on the ground reports that this particular LaFerrari's speed was so great that he was motivated to hand-time a lap. He says the car completed the circuit in a stunning—and most definitely unofficial—six minutes and 35 seconds. 6:35! In addition to running Pirelli tires, the car has weight-saving plastic side windows instead of glass, and what appears to be an unpainted carbon-fiber body shell. The photographer, who has 10 years of experience at the track, commented that the exhaust note was "incredibly loud."
Back in Sydney, Coletta went on record as saying the LaFerarri XX "will be more or less the same [power], but it will be completely different the handling, because it's normal that the handling is different for the circuit and the road." Such a statement confirms the assumption that the LaFerrari XX would be track-only car. Coletta, who admits it would be hard to improve on the 950-hp hybrid powertrain of the standard LaFerrari, added, "The power is a lot; enough! It is very hard to improve the power. The difference will be the slick tires, the aerodynamics, the electronics, the suspension, the shock absorbers."
Coletta also insisted the be-winged Ferrari spied in January is not related to the gestating LaFerrari XX, stating in the same interview that, "The supercar you saw . . . is a laboratory car. It is not an XX car, it is not a Le Mans car for the future. It is a laboratory car for many activities for us. [It] Could be in the future a prototype [Le Mans car]. It is normal for a manufacturer to have a test track and a test car to improve our knowledge for our car for the future."
Contact Ferrari
Website
|
Facebook
|
Twitter
|
Google +
|
YouTube
|
Flickr
Contact Car&Driver
Website
|
Facebook
|
YouTube
|
RSS Feed
Sources
:
Ferrari LaFerrari XX Photo
|
Ferrari LaFerrari XX Article
2015 Nissan Juke : Current Models
The refreshed 2015 Nissan Juke hatchback starts at $21,075, including an $825 destination charge, reflecting a $1,095 price increase over the 2014 model. Nissan announced Juke pricing at the 2014 Los Angeles Auto Show.
The top-of-the-line 2015 Nissan Juke Nismo RS all-wheel-drive model starts at $30,845, including shipping, for an increase of $1,915 over the 2014 model.
The Juke is on sale now at Nissan dealerships.
A technology package adds $1,490 to the bottom line. Buyers can expect to pay an extra $395 for premium paint and $250 for a cold-weather package that will be available later in the model year.
Upgrades to the Juke include a revised exterior and new standard features, including Nissan Intelligent Key with push-button start, a rearview camera and Bluetooth.
The new Juke Color Studio gives buyers a chance to customize their Juke with a range of color packs and accessories. For instance, new accessory 17-inch aluminum-alloy wheels are available with color inserts to match or contrast the body color. Eight colors are available, including electric blue and purple.
The cost of the accessories can be added into the Juke purchase or lease costs and rolled into the payment on the car.
Key Juke rivals include the Hyundai Veloster, Kia Soul and Scion xB.
Contact Nissan
Website
|
Facebook
|
Twitter
|
Google+
|
YouTube
Contact Edmunds
Website
|
Twitter
|
Facebook
|
Google+
|
Pinterest
|
Linkedin
|
Tumblr
|
YouTube
|
Email
Sources
:
2015 Nissan Juke Photo
|
2015 Nissan Juke Article
Karma Coupe, Or Fastest Sedan Ever? : News
Bob Lutz and his business partner Gilbert Villereal remain committed to delivering Fisker Karma sedans that have had their extended-range electric drivetrains replaced by good ol' V-8 engines, in this case the supercharged 6.2-liter LS9 V-8 from the previous Corvette ZR1 supercar.
Considering the LS9 was tuned to deliver as much as 638 horsepower in the Corvette ZR1, the version of the Karma powered by this engine, to be called a Destino, was always going to be a quick car, but now Lutz has revealed that it will "most likely" be the fastest sedan on the planet.
Lutz made the comment during a recent interview with Fortune, where he also revealed that the first Destino customers should start receiving their cars later this year. The fastest four-door currently in production is the 2015 Dodge Charger SRT Hellcat, which has a 707-horsepower rating and top speed of 204 mph. The Charger also has an eight-speed auto while the Destino will only feature a six-speeder.
One advantage the Destino is likely to have over the Charger is less weight. The Charger weighs a substantial 4,560 pounds; no figure has been given for the Destino but it's expected to be 1,000 lbs lighter than the 5,300-lb Karma thanks to the elimination of the huge battery pack and related systems.
We still don't have an official price tag for the Destino but it's believed to cost close to $200,000, or about double what the original Karma cost. The Destino is destined to be a very exclusive product, however, as less than 1,000 will be built annually.
Financial backing for the Destino project comes from WM GreenTech Automotive, the same company that plans to manufacture a budget electric car in Tunica, Mississippi. The Destino will be built at a plant in Michigan using rollers sourced from Fisker.
Contact Fisker Motors
Website
|
Facebook
|
Twitter
|
YouTube
|
Flickr
|
Google+
Contact Motor Authority
Website
|
Facebook
|
Twitter
|
Google+
|
YouTube
Sources
:
Karma Coupe, Or Fastest Sedan Ever Photo
|
Karma Coupe, Or Fastest Sedan Ever Article
George Clooney : Tesla Roadster : Stars And Cars
"But I'm kind of comfortable with getting older because it's better than the other option, which is being dead. So I'll take getting older"
Birth Name : George Timothy Clooney
Born : May 6, 1961
Origin : Lexington, Kentucky
Occupation : Actor, director, producer, screenwriter
Years active : 1978–present
George Timothy Clooney (born May 6, 1961) is an American actor, film director, producer, and screenwriter. For his work as an actor, he has received three Golden Globe Awards and an Academy Award. Clooney is also noted for his political activism, and has served as one of the United Nations Messengers of Peace since January 31, 2008.
Though he made his acting debut on television in 1978, Clooney gained fame and recognition by portraying Dr. Douglas "Doug" Ross on the long-running medical drama ER from 1994 to 1999. While working on ER, he started attracting a variety of leading roles in films including Batman & Robin (1997) and Out of Sight (1998), in which he first teamed with long-term collaborator Steven Soderbergh. 1999 saw the release of Three Kings, a well-received war satire set during the Gulf War featuring Clooney in another lead role. In 2001, Clooney's fame widened with the release of his biggest commercial success, Ocean's Eleven, the first of a profitable film trilogy, a remake of the film from 1960 with the members of The Rat Pack with Frank Sinatra as Danny Ocean. He made his directorial debut a year later with the 2002 biographical thriller Confessions of a Dangerous Mind, and has since directed Good Night, and Good Luck (2005), Leatherheads (2008), and The Ides of March (2011). He won an Academy Award for Best Supporting Actor for his work in the Middle East thriller Syriana (2005) and subsequently fetched Best Actor nominations for such films as Michael Clayton (2007), Up in the Air (2009) and The Descendants (2011).
Clooney's humanitarian work includes his advocacy of finding a resolution for the Darfur conflict, raising funds for the 2010 Haiti earthquake, 2004 Tsunami, and 9/11 victims, and creating documentaries such as Sand and Sorrow to raise awareness about international crises. He is also a member of the Council on Foreign Relations.
Car :
Tesla Roadster
Price :
$109,000
Contact George Clooney
Facebook Fan Page
|
IMDb
Contact Tesla Roadster
Website
|
Twitter
|
Facebook
|
YouTube
|
Google+
Contact Forbes
Website
|
Facebook
|
Twitter
|
YouTube
|
Google+
|
Linkedin
Sources :
George Clooney Photo
|
Tesla Roadster Photo
|
George Clooney Demographic
|
George Clooney Article
DRIVE AWAY 2DAY believes in giving people second chances. Bad credit, no credit, repossessions or bankruptcies? We understand life can be challenging and hardships can fall on anyone. We can help you get you approved with one of our many Guaranteed Credit Approval programs. Our easy to follow 3-step process will get the ball rolling on securing the dependable vehicle that you need and WANT. Based on the terms and financial limits you set, you can be driving home 2Day in the car of your dreams.
DRIVE AWAY 2DAY understands that purchasing a vehicle in these tough credit markets can be discouraging and time consuming. That's why we take the grunt work out of it for you. Our qualified team of vehicle professionals will take your information and develop a deal that is right for you, regardless of past credit decisions. We believe everyone has the right to drive a car they are proud of. With over 30 years of experience in automotive purchasing, we feel we are more than competent to put a deal together that is right for you.
Acura, Audi, BMW , Buick, Cadillac, Chevrolet, Chrysler, Dodge, Eagle, Ferrari, Ford, GMC, Honda, Hummer, Hyundai, Infiniti, Isuzu, Jaguar, Jeep, Kia, Land Rover, Lexus, Lincoln, Mazda, Mercedes-Benz, Mercury, Mitsubishi, Nissan, Oldsmobile, Peugeot, Pontiac, Porsche, Regal, Saab, Saturn, Subaru, Suzuki, Toyota, Volkswagen, Volvo and More...
Call us now and we will help you Drive Away 2Day! (800)871-1933.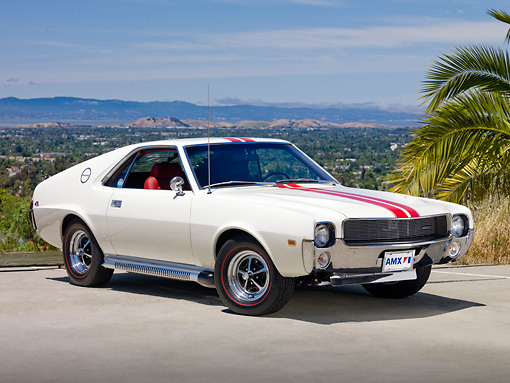 1969 AMC-AMX : Classic Cars
From 1968 through 1970 a four-barrel carbureted eight-cylinder engine could be had in 290, 343, 360 and 390 cubic-inch flavors. Power was sent to the rear wheels courtesy of the standard T-10 four-speed manual gearbox. Dual exhaust and a special traction bar were also included as standard equipment. Adding to the sporty persona were extra wide tires which provided extra traction and enhanced performance.

In 1968 AMC produced 6,725 examples of the AMX. The following year 8,2963 were produced and in 1970 sales dipped to 4,116. There were 52 examples of the Hurst-modified SS/AMX drag strip racing versions. These are highly sought after in modern times as collector cars.

The AMC AMX was popular on the racing circuit, especially at drag strips. The potent engines and wide tires made them very competitive. The AMX captured the Super

Stock

Championship title multiple years. Craig Breedlove, a renowned driver with years of experience and many titles was hired by AMC to help further the career performance of the AMX. He did so by breaking over 100 records including the 24 hour average speed record which he averaged 130 mph. The previous record had been 103 mph. From 1971 through 1974 the AMX name was used on the Javelin indicating the performance option. It was used again in 1977 as a performance option on the Hornet. The following year it was applied to the Concord and in 1979 and 1980 it appeared on the Spirit.

There were three concept versions of the AMX created, known as the AMX/1, AMX/2, and AMX/3. The first operational AMX prototype was debuted in 1966 and resided for a number of years in the Talledega Speedway museum. Two rolling prototypes were made of the AMX/2, with one being used for many years atop of a pole of a used car dealership. In 1970 AMC commissioned ItalDesign to create a mid-engined high-performance version of the AMX, dubbed the AMX/3. The design was mostly by AMC designer Richard 'Dick' Teague and production was done at the former Bizzarrini factory located in Turin, Italy. Only six versions were created from 1969 through 1972. Located mid-ship was a 390 cubic-inch AMC V8 capable of producing 340 horsepower. A custom made OTO Melara five-speed manual gearbox was used and top speed was achieved at 160 mph. (Read More)
Contact Concept Carz
Website | Facebook | Twitter | Google+
Contact AMC-AMX
Website
Sources : 1969 AMC-AMX Photo | 1969 AMC-AMX Article