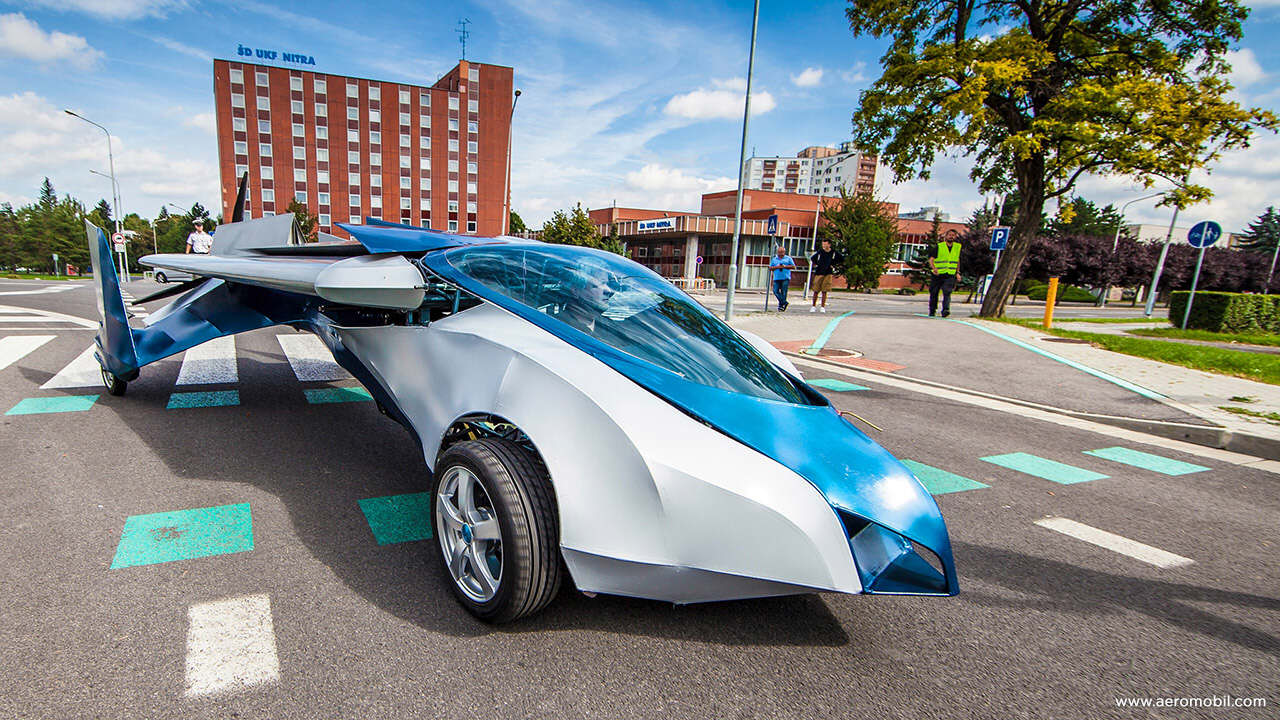 The Transforming Flying Car : Videos
The world's first production-ready flying car, which transforms from an automobile to a plane in just several seconds, has been unveiled to the public in Vienna by its Slovakian inventors.
The presentation of AeroMobil 3.0 took place at the Pioneers Festival in the Austrian capital of Vienna on Wednesday.
"Really, I dedicate of this topic practically 25 years and I started really in garage with my father and with my brother and we made several projects, several prototypes, and now it's time that we can present the real concept," AeroMobil co-founder and CTO, Stefan Klein, said.
The AeroMobil 3.0 transforms from a car to a plane by unfolding its wings, which are located behind the cockpit where the rear seats in an ordinary car would be.
The compact vehicle is designed to be able to drive in road traffic and fit into a standard parking space.
The flying car requires a paved or grass strip of around 250 meters to take off, and just 50 meters to land.
Powered by a Rotax 912 engine, it can reach speeds of up to 160 kilometers per hour on land and 200 kilometers per hour in the air.
The AeroMobil 3.0 runs on standard automobile gasoline and can be re-fueled at any petrol station.
The fuel consumption stands at 12.5 kilometers per liter while flying, and 15 liters per hour while driving.
A pilot's license would be required to fly the car, which has all the safety features present in other airborne vehicles – including autopilot, avionics, and a parachute deployment system.
The vehicle "has behavior as normal plane, is fantastic in air, and very nice on the earth. And as here I said, my idea was because I wish I was connected with emotion, with passion, with freedom, and present now an object that can open connection between people," Klein said during the presentation.
The flying car has been successfully tested in the air. However, Klein and his business partner, Juraj Vaculik, say they aren't taking orders yet, because a standard production process still needs to be perfected.
When the AeroMobil 3.0 finally goes on sale, it will cost less than a small plane, but more than a speedy sports car, according to the inventors.
Contact Aeromobil
Website
|
Facebook
|
Twitter
|
LinkedIn
|
YouTube
Contact RussiaToday
Website
|
Facebook
|
Twitter
|
YouTube
Sources
:
Aeromobil Photo
|
Aeromobil Article
2015 BMW X6 M : Current Models
Porsche has its own ideas, but if you ask us, an all-wheel-drive 911 on steroids would look a lot like a BMW X6. An X6 M, to be precise.
When the first generation of this slant-backed beast arrived five years ago alongside its platform-mate, the X5 M, the duo marked departures from several formerly sacred principles of BMW's M GmbH. These Ms were not only SUVs, they used a torque-converter automatic, all-wheel drive, and a turbo. Earlier prohibitions against these attributes were swept aside because, well, the M division resides in the peaceful village of Garching, just north of Munich and within shouting distance of BMW's headquarters. And on the upper floors of that four-cylinder-shaped building, the execs like numbers on the balance sheet: Big, fat, black numbers.
Nonsensical as it seemed to outside observers, the X6 M became wildly popular with customers. Imposing, loud, and fast, it was about as politically correct as a Hummer H2 and less useful. But it was fun to drive. Now it is back. Based on the just-launched second-generation X6, it has become a better car in virtually every respect. Just look at its heart: The 4.4-liter twin-turbo V-8 gets a boost to 567 horsepower and a whopping 553 lb-ft of torque, up 12 hp and 53 lb-ft. It also gets a new eight-speed automatic transmission and launch control. The numbers are great, as expected: BMW says zero to 60 mph takes a mere four seconds flat, top speed is governed at an entirely sufficient 155 mph.
What customers may appreciate more often is the 20-percent improvement in fuel economy, at least as measured in the European cycle. If mirrored in U.S.-market EPA tests, the combined rating could rise from today's 15 to as high as 18 mpg, a figure that won't win any more respect at your natural foods co-op. Still, it's nice to go farther on a tank of fuel, no?
X6 M buyers—and those of the new X5M, which debuts at the same time—may also notice the sound. "The exhaust system has been modified to satisfy the sporting ambitions of the new M models," says BMW, as if the previous model's exhaust note were somehow insufficiently loud.
The skillful engineers of M GmbH have modified the chassis extensively to match this X6's awesome power. The front control-arm suspension and the independent rear suspension have been stiffened and lowered to allow higher cornering speeds. Standard 21-inch wheels wear 285/35 front and 325/30 rear rubber. A high-performance braking system is in charge of stopping about 5000 pounds of metal in the shortest possible distance. Judging from our impressive experience with a regular V-8–powered X6, the M model must be a stunning performer on twisty roads and even on the racetrack.
Inside, the X6 M comes with uplevel appointments and plenty of "M" cues. These include specific instrumentation, sportier seats, and customization features offered only on the M models. And outside? The changes are extremely successful at expressing successful extremity. From the large, functional air intakes to the "air-breather" vents aft of the front wheels, the vertical rear reflectors, and those four exhaust pipes you can't miss, the X6 M is probably the most impressive and cleanest-looking X6 of all.
It's yours for $103,050. And until Mercedes-AMG or Porsche comes up with its own coupe-like SUV variant, the X6 M remains in a class of one.
Contact BMW
Website
|
Twitter
|
Facebook
|
YouTube
|
Instagram
|
Google+
Contact Car&Driver
Website
|
Facebook
|
YouTube
|
RSS Feed
Sources
:
2015 BMW X6 M Photo
|
2015 BMW X6 M Article
Fiat-Chrysler To Spinoff Ferrari : News
The recently merged Fiat Chrysler Automobiles empire has ambitious plans for growth, and it's going to need some big bucks in its coffers in order to enact them. Part of that cash injection is coming from the floating of its IPO on the New York Stock Exchange, but now FCA has announced a further capital campaign to be based on the enormous asset that is Ferrari.
FCA's board of directors has just approved the separation of Ferrari from the rest of the group as a separate entity. Once that separation is complete, Ferrari will put 10 percent of its shares on the stock market "in the United States and possibly a European exchange" as well.
This isn't the first time that the idea of a Ferrari IPO has been raised. Sergio Marchionne, chief executive of Chrysler, Fiat and Ferrari (pictured above), first raised the idea four years ago. Former Ferrari chairman Luca di Montezemolo nixed the idea, but now that he's been discharged, it appears there's nothing to get in the way of Marchionne's desires.
The remaining 90-percent stake in Ferrari will be distributed among FCA's existing shareholders, of which the largest (at over 30 percent) is the Agnelli family's Exor investment company headed by Fiat chairman John Elkann.
Contact Ferrari
Website
|
Facebook
|
Twitter
|
Google +
|
YouTube
|
Flickr
Contact Autoblog
Website
|
Facebook
|
Twitter
|
YouTube
Sources
:
Ferrari Photo
|
Ferrari Article
DRIVE AWAY 2DAY believes in giving people second chances. Bad credit, no credit, repossessions or bankruptcies? We understand life can be challenging and hardships can fall on anyone. We can help you get you approved with one of our many Guaranteed Credit Approval programs. Our easy to follow 3-step process will get the ball rolling on securing the dependable vehicle that you need and WANT. Based on the terms and financial limits you set, you can be driving home 2Day in the car of your dreams.
DRIVE AWAY 2DAY understands that purchasing a vehicle in these tough credit markets can be discouraging and time consuming. That's why we take the grunt work out of it for you. Our qualified team of vehicle professionals will take your information and develop a deal that is right for you, regardless of past credit decisions. We believe everyone has the right to drive a car they are proud of. With over 30 years of experience in automotive purchasing, we feel we are more than competent to put a deal together that is right for you.
Acura, Audi, BMW , Buick, Cadillac, Chevrolet, Chrysler, Dodge, Eagle, Ferrari, Ford, GMC, Honda, Hummer, Hyundai, Infiniti, Isuzu, Jaguar, Jeep, Kia, Land Rover, Lexus, Lincoln, Mazda, Mercedes-Benz, Mercury, Mitsubishi, Nissan, Oldsmobile, Peugeot, Pontiac, Porsche, Regal, Saab, Saturn, Subaru, Suzuki, Toyota, Volkswagen, Volvo and More...
Call us now and we will help you Drive Away 2Day! (800)871-1933.
1954 Edwards America Coupe : Classic Cars
317-cid, 205-hp OHV V-8 engine, four-speed Hydra-Matic transmission, coil spring independent front suspension, live rear axle with semi-elliptic leaf springs and four-wheel hydraulic drum brakes. Wheelbase: 107-inches
San Francisco industrialist Sterling Edwards was enamored with sports cars. Rather than assemble a stable of Europe's finest; however, he was convinced that America could build a model that would compete with the best of them. The result was the Edwards R-26, a Ford-powered, tube-frame sports racer, very successful in its early seasons.
His second venture, the Edwards America, aimed at a more sophisticated audience. Coachwork was fiberglass, in a quasi-Italian idiom, built on a Mercury chassis with Cadillac or Lincoln V-8 power and Hydra-Matic transmission. By the time it reached market in 1954, however, Chevrolet's Corvette was in full swing and Ford's Thunderbird was in the wings. Just six Edwards Americas were built.
Believed to be the second Edwards America built, this car was originally owned by Robert Miller of San Francisco. Lincoln-powered, it was subsequently owned by Fred Hoffler. In the early 1970s it had suffered fire damage, was refurbished and sold to Richard "Tiny" Williams in Florida. At Tiny's passing, the car was inherited by his son in Ontario, Canada, from whom the current owner acquired it in 2000.
A striking car, it shows some age, particularly on the paint and brightwork. The brown leather interior is very good, as is the matching carpet. The handsome varnished wood dashboard has Stewart Warner gauges and an AM radio. Michelin whitewall tires are mounted on Kelsey-Hayes chrome wire wheels. Reminiscent of the Cunningham coupes of the 1950s and taking cues from Virgil Exner's Chrysler show cars, the Edwards America personifies elegance on wheels.
Contact Auctions America
Website
|
Facebook
|
Twitter
|
YouTube
Sources
:
1954 Edwards America Coupe Photo
|
1954 Edwards America Coupe Article