DRIVE AWAY 2DAY believes in giving people second chances. Bad credit, no credit, repossessions or bankruptcies? We understand life can be challenging and hardships can fall on anyone. We can help you get you approved with one of our many Guaranteed Credit Approval programs. Our easy to follow 3-step process will get the ball rolling on securing the dependable vehicle that you need and WANT. Based on the terms and financial limits you set, you can be driving home 2Day in the car of your dreams.
DRIVE AWAY 2DAY understands that purchasing a vehicle in these tough credit markets can be discouraging and time consuming. That's why we take the grunt work out of it for you. Our qualified team of vehicle professionals will take your information and develop a deal that is right for you, regardless of past credit decisions. We believe everyone has the right to drive a car they are proud of. With over 30 years of experience in automotive purchasing, we feel we are more than competent to put a deal together that is right for you.
Acura, Audi, BMW , Buick, Cadillac, Chevrolet, Chrysler, Dodge, Eagle, Ferrari, Ford, GMC, Honda, Hummer, Hyundai, Infiniti, Isuzu, Jaguar, Jeep, Kia, Land Rover, Lexus, Lincoln, Mazda, Mercedes-Benz, Mercury, Mitsubishi, Nissan, Oldsmobile, Peugeot, Pontiac, Porsche, Regal, Saab, Saturn, Subaru, Suzuki, Toyota, Volkswagen, Volvo and More...
Call us now and we will help you Drive Away 2Day! (800)871-1933.
1975 Chevrolet Caprice : Classic Cars
The Caprice name was coined by Bob Lund (Chevrolet's General Sales Manager) after a classy restaurant he frequented in New York City. Some say the car was named after Caprice Chapman, daughter of auto executive and influential Indy-car official James P. Chapman.
A Caprice Custom Sedan option package (RPO Z18) was offered on the 1965 Chevrolet Impala 4-door hardtop,[2] adding $200 to the $2,742 price tag. The Caprice option included a heavier frame, suspension changes, black accented front grille and rear trim panel with Caprice nameplate, slender body sill moldings, Fleur-de-lis roof quarter emblems, color-keyed bodyside stripes and Caprice hood and dash emblems. Full wheel covers were the same as that year's Super Sport, but the "SS" emblem in the center of the spinner was replaced by a Chevy bowtie. The Super Sport's blackout rear trim panel was also used, without the "Impala SS" nameplate. The interior featured a higher-grade cloth and vinyl seat and door trim (as well as thicker, higher-grade carpeting), walnut trim on the dashboard and door panels, pull straps on the doors and extra convenience lights. A full vinyl roof was optional. A 283 cu in (4.6 L), 195 hp (145 kW) V8 engine was standard.
The Caprice was aimed to compete with the Ford LTD, Plymouth VIP, AMC's Ambassador DPL, and even the smaller Oldsmobile Cutlass Supreme.[3] These models included luxuriously upholstered interiors with simulated wood dashboard and door-panel trim, thicker carpeting, sound insulation, courtesy lighting, and more upscale exterior trims.
The 1975 models received a revised grille and taillight trim and six-window styling on four-door models. The dashboard, radio and climate control graphics were revised; the speedometer read up to 100 mph (160 km/h), and had smaller numbers for kilometers per hour. The Caprice convertible would be discontinued after the 1975 model year along with its full-size B-body counterparts including the Oldsmobile Delta 88, Buick LeSabre, and Pontiac Grand Ville. Just about 8,350 Caprice Classic convertibles found buyers in 1975.
As fuel economy became a bigger priority among Americans following the Arab Oil Embargo of late 1973 and early 1974, Chevy made the smaller 145 hp (108 kW) 350 cu in (5.7 L) small block V8 with two-barrel carburetor standard on all Caprice models except wagons for 1975. In California, the four-barrel 155 hp (116 kW) 350 V8 was the base engine and this engine was unavailable elsewhere. Optional engines included the 175 hp (130 kW) 400 cu in (6.6 L) small block V8 (standard on wagons) and 215 hp (160 kW) 454 cu in (7.4 L) big block, the last was not available in California. All engines except for the 454 were single exhaust systems with the introduction of the catalytic converter. Station wagons that used the 454 now featured dual exhaust as well. Also introduced this year were GM's "High Energy" electronic ignition and radial tires that were advertised as part of "Chevrolet's New Efficiency System." The theme of economy continued through to the new options this year: A new "Econominder" gauge package included a temperature gauge and a "fuel econominder", the second being a gauge alerting drivers as to when their driving habits caused the engine to use more or less fuel. Also new on the options list: intermittent windshield wipers, and 50/50 seating options on the Impala coupe/sedan and Caprice Classic convertible models.
"Landau" model was also introduced in 1975, and was primarily an appearance package. Carried over unchanged into 1976, the Landau featured a choice of special paint colors, sports-styled dual remote outside rear-view mirrors, color-keyed wheel covers, a landau vinyl roof (with chrome band across the roof), a vinyl bodyside molding insert, and pinstriping. Inside there were color-keyed seat belts and floor mats. Fender and dashboard emblems rounded out the package. With minor changes, the Landau would be carried over into the 1977-era coupe models.
The 1976 Caprice Classic marked the sixth and final year of a body style introduced for the 1971 model year. 1976 models weighed approximately 4,314 pounds (1,957 kg) and was 222.9 inches (5,660 mm) long, growing considerably from the 1971s 4,040 pounds (1,830 kg) and 216.8-inch (5,510 mm) length. Only minor changes were made for 1976, including an eggcrate grille similar to that of the 1976 Cadillac Calais/DeVille/Fleetwood flanked by new rectangular headlights, along with revised exterior and interior trimmings. Engine options remained virtually unchanged with the 350 two-barrel remained standard in everywhere but California where the 350 four-barrel was standard. The only change was the 350 four-barrel was available in sedans and coupes nationwide and rated at 165 hp (123 kW). The dual exhaust equipped 454 increased 10 hp (7.5 kW), rated at 225 hp (168 kW) and was still unavailable in California. Also available was the 180 horsepower (130 kW) four-barrel 400 V8 standard on wagons and optional on all other models. This was the final year for the big block 454 V8 to be offered, along with hardtop body styles and the clamshell-tailgate design for the station wagon.
Contact Chevrolet
Website
|
Twitter
|
Facebook
|
YouTube
|
Google+
Sources
:
1975 Chevrolet Caprice Photo
|
1975 Chevrolet Caprice Article
2015 Green Car Of The Year : Awards
The auto industry has performed an amazing about-face in less than a decade, shifting its focus from gas-guzzling SUVs to fuel-sipping hybrids and gas-free electric vehicles. That has made earning accolades like the World Green Car of the Year all the more important, and this time around the winner is the BMW i8, making it the second consecutive win for BMW in this prestigious category.
Ulrich Kranz, Director of the BMW i Model Line, commented on the win thus: "We feel extremely honored, receiving this prestigious World Green Car award for the BMW i8. Together with the 2014 World Green Car Award for the BMW i3 it just confirms the rightfulness of our purpose-built strategy when it comes to electric cars. BornElectric instead of conversion is the way to go." Consumers seem to agree, as BMW has had to increase production of the i8 in order to keep up with demand and lower a growing waitlist of eager buyers. (And note that this is a $136,000 car.)
The BMW i8 beat out a shortlist of nine other green cars. including the Mercedes-Benz S 500 Plug-In Hybrid and the Volkswagen Golf GTE. It also follows up the BMW i3, which won the Green Car of the Year last year, and is the third such award since 2010 when BMW's BlueMotion diesel technology took home the prize. Five green car experts ultimately chose the i8 as the best representative of eco-friendly automotive progress in 2014, and it was just a few months ago that Top Gear dubbed the hybrid Bimmer its own Car of the Year.
The experts commented that, "The BMW i8 gasoline hybrid looks so cool, it should be the icon for all 'Green' cars…. So it inspires Green Passion, which on paper looks like 155 mph on the i8's three cylinder turbo gasoline engine, four-wheel-drive and four seats. The i8 adds so much enjoyment to a sensible lifestyle that it needs to be recognized as a great Green Car."
Couldn't have put it any better myself.
Contact BMW
Website
|
Twitter
|
Facebook
|
YouTube
|
Instagram
|
Google+
|
Foursquare
Contact CleanTechnica
Website
|
Facebook
|
Twitter
|
Google+
Sources
:
Fuel Cell Photo
|
Cell Water Article
West Virginia Ban Tesla Sales : News
Bad news for West Virginia citizens looking to buy an American-made Tesla electric car: The Mountain State's legislature just rammed through a bill that will ban Tesla from selling direct to consumers. Democracy at work.
Yes, as Automotive News first reported, West Virginia Gov. Earl Ray Tomblin has signed a bill today that expressly states an automaker may not "act in the capacity of a new motor vehicle dealer." The bill, which you can read here, was debated over the past few weeks in the state Legislature, and supported by West Virginia State Senate President Bill Cole—who, coincidentally, has for many years operated car dealerships in both West Virginia and neighboring Kentucky.
The state would have been an important gateway for the electric carmaker. While West Virginia itself offers one of the smallest auto markets in the U.S., its location would have been good news for potential Tesla customers in bordering Virginia and Pennsylvania, where Tesla has a restricted number of retail facilities, and Maryland, where Tesla's direct-to-consumers sales model is banned. Legally speaking, Tesla's status is uncertain in neighboring Ohio, and Kentucky offers no Tesla sales facilities at time of writing.
The bill was written to "clarify responsibilities between automakers and their franchised dealers," according to a statement by Ruth Lemmon, president of the West Virginia Automobile & Truck Dealers Association. After the original bill was proposed, Tesla enacted a lobbying effort to attach an amendment that would give the company an exemption in the state. Such an amendment was added in the West Virginia House, but that ruling body struck down the amendment and accepted the Senate version without a Tesla exemption.
Now, according to the law signed today, manufacturers may not "operate a dealership, including, but not limited to, displaying a motor vehicle intended to facilitate the sale of new motor vehicles other than through franchised dealers," unless that display is part of a trade show with more than two automakers. Thankfully, the bill does not prevent citizens from reserving a car directly from Tesla's online configurator, but you're out of luck if you wanted to kick the tires or arrange a test drive with a salesperson.
You'll note that the bill's language seems to not only ban sales at Tesla-owned storefronts, but goes so far as to prevent Tesla from operating "galleries," non-retail locations that offer test-drives and general information but that do not conduct actual sales.
Contact Tesla Motors
Website
|
Facebook
|
Twitter
|
YouTube
|
Vimeo
|
Google+
Contact Car&Driver
Website
|
Facebook
|
YouTube
|
RSS Feed
Sources
:
Tesla Model S Photo
|
West Virginia Ban Article
2015 McLaren 570S : Concept Cars
McLaren has announced at the New York Auto Show that the all-new 570S Coupe will have a base price of $184,900 in the United States, making it just $2,200 more expensive than the base Porsche 911 Turbo S. In the UK, the McLaren 570S starts from £143,250.
That's obviously a different kind of "entry-level" vehicle, but the Sports Series will also offer a cheaper, lower-powered model – the 540C Coupe, which starts from £126,000 in the United Kingdom. US pricing for the 540C hasn't been announced yet, but it should be offered for around $160,000, provided that McLaren decides to offer it in the United States. The McLaren 540C Coupe will debut at the Shanghai Auto Show later this month.
As a quick reminder, the McLaren 570S is powered by an evolution of the 3.8-liter twin-turbo V8 engine which features 30 percent new components. The unit produces 570PS (562hp) at 7,400 rpm and 600Nm (443lb ft) between 5,000 and 6,500 rpm. With a curb weight of 1,313kg (2,895 lbs), McLaren says the 570S is almost 150kg (331 lbs) lighter than its closest rival.
Thanks to a power-to-weight ratio of 434PS per ton (5 lbs per hp), the McLaren 570S accelerates from 0 to 100km/h (62 mph) in 3.2 seconds and to 200 km/h (124 mph) in 9.5 seconds, while top speed is 328 km/h (204mph).
Global deliveries of the Sports Series will begin later this year.
Contact McLaren
Website
|
Facebook
|
Twitter
|
Google+
|
YouTube
Contact Carscoops
Website
|
Facebook
Sources
:
2015 McLaren 570S Photo
|
2015 McLaren 570S Article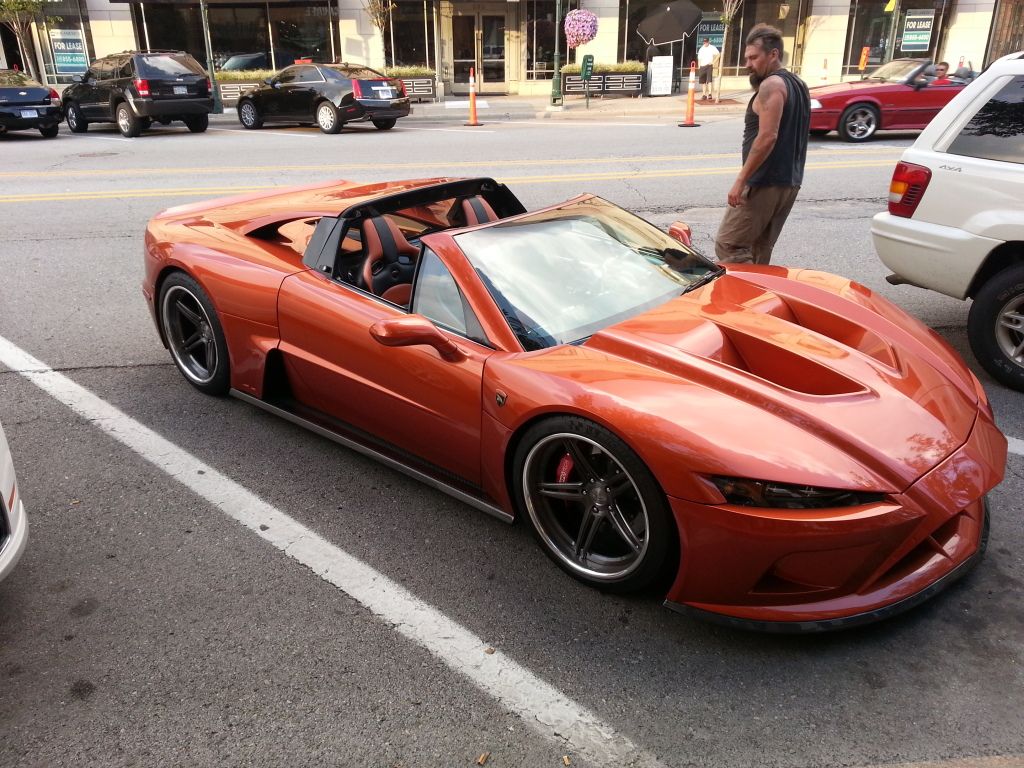 Falcon F7 : Current Models
Over the past several years, Falcon Motor Sports has been successfully engaged in the design, manufacture and sale of automotive components, which includes a variety of hardtops, body panels as well as structural components for Dodge Viper and Plymouth Prowler. On a larger scale, Falcon Motor Sports designed, built and sold a new body style for the 3rd generation Viper streetcar that was widely acclaimed on a worldwide market. Recently, Falcon Motor Sport's latest product development efforts led to the final development, and fabrication of the car we proudly call, Falcon F7 Series 1.
Everything great starts from a single, powerful idea. Born out of pure sports car passion and the unquenchable desire to fill the void in the competitive and repetitious world of vehicle exclusivity for a hand crafted, uniquely American, exotic ultra high performance sports car. Welcome to Falcon F7.
Contact Falcon Motorsports
Website
Sources
:
Falcon F7 Photo
|
Falcon F7 Article