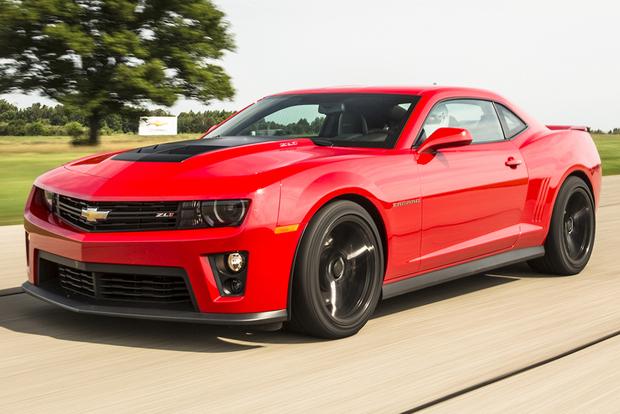 2015 Chevrolet Camaro ZL1 : Current Models
The potent ZL1 is the high-performance variant of the reborn, retro-flavored Camaro. Also available in summer-friendly convertible form, the coupe combines aggressive looks and a 580 horsepower supercharged V8 with surprisingly good handling dynamics and ride quality thanks to GM's trick Magnetic Ride Control system.
Overview
The ZL1 packs a more powerful version of the supercharged 6.2-liter LSA V8 that was introduced in the Cadillac CTS-V. In the Camaro, the motor is good for 580 horsepower and 556 lb-ft of torque, beating out the classic 1969 ZL1's 427 cubic inch V8 by more than 150 horsepower. Helping make those impressive power figures is a 1.9-liter Roots-style supercharger that crams air into the engine with a pair of four-lobe rotors and the aid of an intercooler.
Chevrolet modified the LSA engine specifically for the ZL1, with upgrades including a less restrictive air filter, dual inlet paths and improved airflow throughout the supercharger housing. Other changes include a more efficient intercooler and electric power steering system.
Specially engineered transmissions were necessary to the stress of all that power. Chevy beefed up its Tremec TR-6060 six-speed manual to MG9-spec for ZL1 duty, which means the transmission can handle 30 percent more torque. This is achieved through the use of a strengthened output shaft, high-strength rear housing and additional roller bearing.
One unique feature of the ZL1 among high-performance muscle cars is the availability of an automatic transmission. While the notion of adding an automatic transmission may make some enthusiasts cringe, the reality is some consumers with pockets deep enough to purchase this car may very well prefer a six-speed automatic transmission over a do-it-yourself box.
The clutch-less option is a Hydra-Matic 6L90 six-speed automatic transmission, which benefits from two additional pinion gears, an additional clutch plate and strengthened output shaft and gearset. There are also three drive modes: Drive, Sport and Manual, depending on the driver's preference at the time.
"Drive" is calibrated for optimal fuel economy, which even includes second-gear starts, along with smoother shifting points for comfort. This is for drivers simply looking to get from point A to point B without earning themselves a ticket or squandering $60 worth of premium fuel.
"Sport" is, as expected, a sport-minded setup that makes use of faster, tighter shift points and a tendency to hold gears longer for optimal power. The final mode, "Manual," takes away any automatic upshifts, adds staged upshifts when demanded and puts all focus on performance at the cost of comfort and economy. This is the mode for those lucky and bold enough to enjoy their ZL1 on the track.
Outside, the ZL1 boasts an aggressive body kit along with a unique "mohawk-style" hood, which features a functional air extractor and is made of a carbon fiber composite. The cabin is dressed up with a sueded microfiber-accented instrument panel and an available (and highly recommended) sueded microfiber wrap on the special flat-bottom steering wheel and shifter. The visibility problems of the standard Camaro, created by thick pillars and a high beltline, regrettably remain in the ZL1. Thankfully, a backup camera is available.
New to the ZL1 is a standard MyLink infotainment system, which offers voice control of certain entertainment functions and includes Bluetooth smartphone connectivity and streaming audio via Pandora radio and Stitcher SmartRadio. MyLink comes with a color touchscreen and can be outfitted with navigation.
Magnetic Ride Control
The trick to the ZL1's excellent ride/handling compromise is GM's third-generation Magnetic Ride Control system. This technology uses valve-less damping and Magneto-Rheological fluid technology in its shock absorbers to control resistance. Essentially, the system can magnetize particles to change the flow resistance on the fly and adjust the ride from hard to soft, or soft to hard - mitigating body roll during hard cornering and keeping the ride comfortable while cruising.
The third-gen system uses new twin-wire/dual-coil dampers at all four corners, rather than a single, larger single-core on the outgoing generation. The new system allows for even more precise control and a wider range of comfort levels, allowing up to 1,000 adjustments per second.
The MRC system has three preset settings: Tour, Sport and Track.
Performance Traction Management system
The final trick up the ZL1's sleeve comes in the form of a performance traction management system intended to used on the track or at drag strips. PTM is standard equipment, having been born in the Corvette ZR1.
PTM works by integrating magnetic ride control, launch control, traction control and electronic stability control to work together optimally depending on the environment and task at hand.
There are five pre-set modes:
Mode 1 - Traction control set for wet conditions, with stability control on and Magnetic Ride Control set on Tour.
Mode 2 - Traction control set for dry conditions, with stability control on and Magnetic Ride Control set on Tour.
Mode 3 - Traction control set on Sport 1, with stability control on and Magnetic Ride Control set on Sport.
Mode 4 - Traction control set on Sport 2, with stability control off and Magnetic Ride Control set on Sport.
Mode 5 - Traction control set on Race, with stability control off and Magnetic Ride Control set on Track. Launch control tuned for VHT-prepped drag strips. This means the ZL1 can be set to work according to the driver's preference for just about any situation encountered on the road, track or on the strip.
Standard and Optional Features
Standard features include heated leather seats with microfiber suede inserts with six-sway power adjustability, leather wrapped steering wheel and shift knob, unique alloy pedal covers, ZL1 door sill plates, Boston Acoustics-provided premium audio, complete with nine speakers, four auxiliary gauges including boost, rear park assist, rear camera display in the mirror and more.
Options include a power sunroof, stripe package, exposed carbon fiber hood insert, interior suede microfiber package (covers steering wheel, shift knob and shift boot), the previously mentioned automatic transmission and forged aluminum wheels.
Key Competitors
The Camaro ZL1 faces competition from the Ford Shelby GT500 and the Dodge Challenger SRT Hellcat.
Other cars that offer the firepower and handling comparable to that of the Camaro ZL1 are far pricier performance machines like the Nissan GT-R and the Porsche 911 Carrera S. Chevrolet's own Corvette could also be seen as a competitor.
Contact Chevrolet
Website
|
Twitter
|
Facebook
|
YouTube
|
Google+
Contact Left Lane News
Website
|
Facebook
|
Twitter
Sources
:
2015 Chevrolet Camaro ZL1 Photo
|
2015 Chevrolet Camaro ZL1 Article