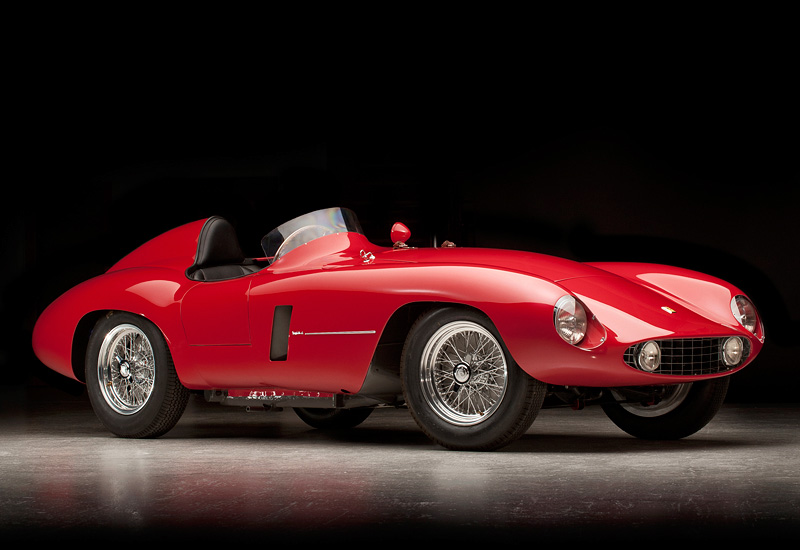 1954 Ferrari 750 Monza : Classic Cars
Perhaps the biggest factor in Ferrari's early success was his practice of designing and building engines that could be adapted to various applications across the spectrum of Grand Prix, sports racing and roadgoing grand touring cars. It was this principle that led Ferrari in 1951 to experiment with Aurielio Lampredi's inline 4-cylinder engine, originally designed for the 2-liter Formula 2 and the coming change to the 2.5 liter Formula 1 scheduled for 1954.
In winter 1953/54 Lampredi began developing a new 4-cylinder engine derived from the Tipo 555 Grand Prix car for what would become the new Monza 750 sports racer. Like most of Lampredi's designs, the new unit used cast alloy for the cylinder head and block assembly, sump and crankcase, and iron cylinder liners screwed into the block to minimize compression loss. The new engine displaced 3 liters and used a wide-angle dual overhead cam arrangement, twin Weber 58mm sidedraft carburetors and 8.6:1 compression to produce 260 HP at 6,000 RPM. A 5-speed transaxle was integrated with the differential.
Approximately 30 750 Monzas were produced, all using Scaglietti coachwork designed by Ferrari's son Dino. The Monza 750 was built on a conventional oval steel tube chassis with fully independent A-arm suspension up front and a DeDion rear axle with radius rods; oversized drum brakes were used at all four corners. Graced with strong torque and brute power, the car won its first time out at the Monza 'Gran Premio Supercortemaggiore' race driven by Froilan Gonzalez and Maurice Trintignant, that first victory prompting the car's name.
The second Ferrari 750 Monza built, 0462M was purchased by Joe Kelly of Dublin, who co-drove the car in the September 11 Tourist Trophy race at Dundrod with Desmond Titterington, where it retired with gearbox trouble. Victory followed a week later at Leinster with Titterington again at the wheel, followed by a DNF at Goodwood by future World Champion Mike Hawthorn. Kelly then sold the car to the Jaguar Car Company, where it was back-engineered to determine why it was so competitive against the Jaguar D-Type sports racer. It was then purchased by Jaguar team driver and 1951 Le Mans winner Peter Whitehead. In 1955 ace Formula 1 driver Jack Brabham imported the car to Australia, where it was raced until 1959.
By turns part of the Engelbert Stieger, Brando Wang, Walter Burani and Roberto Crippa collections, 0462M has been campaigned extensively for many years at the Historic Grand Prix of Monaco, the Ferrari Maserati Historic Challenge, the Monterey Historic Races and the Mille Miglia rally.
Bearing chassis number Tipo 501, 0462M is currently equipped with a 3.0 L 4-cylinder racing engine and gearbox, maintained for years by GTO Engineering in the UK. The original numbers matching engine and a rebuilt spare gearbox will accompany the car at auction. It has a charming patina that serves as testament to its extensive racing career. It is always welcome at prestigious events around the world and remains very competitive in its vintage class.
Contact Ferrari
Website
|
Facebook
|
Twitter
|
Google +
|
YouTube
|
Flickr
Contact Mecum Auction
Website
|
Facebook
|
Twitter
|
Google +
|
YouTube
|
Email
Sources
:
1954 Ferrari 750 Monza Photo
|
1954 Ferrari 750 Monza Article
|
1954 Ferrari 750 Monza Interior Photo
|
1954 Ferrari 750 Monza Photo 2