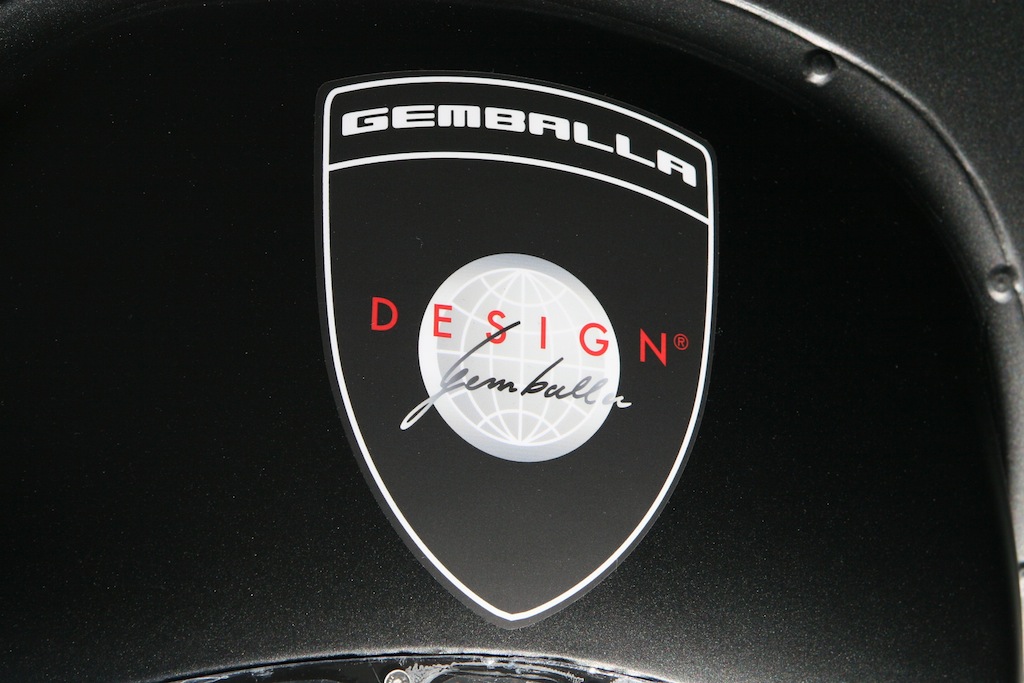 Gemballa GmbH Design : Tuners
Since 1981, the name GEMBALLA has been synonymous with bespoke tuned cars based on Porsche vehicles. Prior to that, the firm worked on a small handful of other premium brands by special request. In the ensuing years, innovative milestones were laid down by GEMBALLA, whose visionary ideas set the tone for the burgeoning luxury car personalisation industry. No other name is so strongly linked to the early days of aftermarket tuning, particularly working on Porsche vehicles. During the 33-year history of GEMBALLA, the standard for an entire industry was in many ways set by this company, particularly in the areas of design, aerodynamics and performance. Latterly, new model designations like MISTRALE, TORNADO, AERO, and GT have joined the legendary AVALANCHE and MIRAGE, and are also instantly recognised by car enthusiasts all over the world. Their common bond is GEMBALLA, and their birthplace is the town of Leonberg, near Stuttgart.
Aerodynamics
GEMBALLA cars are renowned for their perfect aesthetic and functional form. The exacting precision of the production components is the direct result of measuring the base vehicle with state-of-the-art digital equipment. The strong and ultra-light carbon-fibre components are designed to fit to the original factory mounting points, and line up perfectly with the existing bodywork. Such attention to detail underlines GEMBALLA's "Made in Germany" slogan.
Forged Wheels
As with the other aspects of GEMBALLA automotive operations, CEO Andreas Schwarz demands both creativity and attention to detail from his wheel designers in the furthering of their art. Vital components of any high-performance vehicle, alloy wheels must be as resilient as they are aesthetically pleasing. This is why GEMBALLA is proud to offer some of the lightest, strongest and most elegant forged alloy wheel designs on the market today. Thus, even if a customer decides to adopt significantly larger wheels than standard, the GEMBALLA replacements will show an unsprung weight and handling advantage in most cases. Whether forged or cast, GEMBALLA light alloy wheels are a good investment in form and function.
Dynamometer
As well as being road tested to confirm perfect drivability, at GEMBALLA every uprated vehicle's output is measured on a dynamometer using a very detailed and comprehensive EEC measurement procedure. The vehicle will not be signed off until it meets the benchmark level established by the original test motor, and the signed dyno sheet is presented to the customer when the vehicle is delivered. With this level of transparency, GEMBALLA underlines its legitimate claim to quality and pride in its engineering services.
Suspension
While good performance comes from a fine balancing act of chassis ability and engine power, the suspension is the limiting factor on real world roads with bends, cambers and bumps.
To enable GEMBALLA vehicles to stay at the top of their game, substantial resources are directed at developing and refining appropriate spring, damper and anti-roll bar combinations for some models, and specific software applications for the air suspension systems on others. Unlike a racing car, a good road car has to have a fine balance between sportiness and comfort. Thus, the chassis engineers first have to familiarise themselves with the basic character of a car before setting out to create chassis settings that can handle GEMBALLA's infusion of extra power and larger wheel/tyre combinations.
In some cases, the customer has a voice in how his car will go down the road. The electronically controlled air suspension systems on the Cayenne and Panamera offer different basic settings, and revised software maps can be accessed at the touch of a button. The purely mechanical suspension on other models requires a traditional approach to establish the ideal settings for springs and dampers. In this case, specialist partner companies with state of the art simulation equipment are called upon to undertake development work. The final production settings are defined by experienced test drivers who put in hundreds of hours on road and track before signing off a product.
Engine & Performance Upgrades
The engine is the heart of any automobile, and passion comes from the heart. At GEMBALLA, special care is devoted to building high-performance engines. As a first step, the engineers clearly assess the mechanical headroom of a base engine. Only then can potential performance parameters be laid out to ensure that the engine develops its full potential with no sacrifice in reliability. After that, the precise stage of development is defined, and the upgrades achieved either with control software remapping alone, or in conjunction with bespoke turbochargers, high-efficiency intercoolers, additional oil coolers and other mechanical upgrades. Whatever the state of tune an engine leaves GEMBALLA in, you can be sure that it will deliver the utmost driving pleasure for many years after that first exciting squeeze on the throttle.
Interior
Choosing a GEMBALLA car is making a statement that can be further underlined by a matching bespoke interior. When it comes to a personal choice of colour and trim materials, the sky is the limit. High-quality leather and fine fabrics - plain or patterned - add to the feeling of unbridled luxury, and even the smallest switches and panels can be covered in fine leather or colour-coded. Trim insert panels in aluminum, stainless steel, carbon, wood, or even diamonds can all be handcrafted to complete a unique interior portrait. The experience and attention to detail of GEMBALLA's master craftsmen and upholsterers guarantees a perfect result that will surprise and delight the owner. This is automotive haute couture at its finest. GEMBALLA's bespoke programme also accommodates audiophiles and fans of technology, and anything from state-of-the-art multi-media to a built-in fridge to cool your champagne can be integrated into an interior.
Brakes
Better brakes alone can make a car faster on road or track, and GEMBALLA has always been at the forefront of braking technology. GEMBALLA's high performance brake systems are designed to improve retardation and handling through the use of cutting edge designs and materials that both improve performance and reduce unsprung mass. To achieve these goals, GEMBALLA embarked on an exclusive technical development partnership with BREMBO. The result is a cutting edge lightweight brake system exclusive to GEMBALLA that resists fade even when hammered mercilessly on the racetrack.
Exhaust Systems
A distinctive exhaust note stamps its character on a car, and can even help to revive the memory of a great drive many years later. Building aural emotion into their high quality stainless steel exhaust systems is a given at GEMBALLA. A GEMBALLA exhaust is also identifiable at a glance. The distinctive twin forged alloy triple exhaust outlets of the GEMBALLA GT, inspired by the system on the AVALANCHE, are a prime example of this. Thanks to the flow-optimised, low backpressure design of the exhaust system, the engine can breathe more easily, releasing a few more horsepower.
Variations on a theme
GEMBALLA "production cars", such as the AVALANCHE, TORNADO, MISTRALE, MIRAGE GT and MIG are sophisticated low volume models based on the most exclusive supercars.
The strict limit on production numbers, and the stunning level of detail in the customisation of these top-of-the-line GEMBALLA cars ensures their utmost value and exclusivity. A second string to GEMBALLA's bow is the modular individualization packages that transform the look and feel of Porsche and McLaren vehicles. These allow owners to add individual components like alloy wheels, aerodynamic parts and interior trim highlights in stages. We make no compromises in quality during the development and production of our products. Only the highest quality materials are used, and the perfect fit of all our aerodynamic components is guaranteed.
Carbon-fibre is used for all these aerodynamic parts with digital measurements of the original mounting points ensuring a perfect fit every time. Our alloy wheels are made from either cast or forged aluminum depending on the price point of each range. Every GEMBALLA component is designed, developed and tested in-house to our rigorous standards. All aerodynamic parts are wind tunnel tested, with engine and upgrades developed and tested on our dynamometer as well as on road and track.
The engine and chassis upgrades undergo thousands of kilometers of road and track testing, and have to meet our subjective quality standards as well as the objective German TUV safety and emissions standards, before they can be signed off for sale.
Contact Gemballa Tuning
Website
|
Facebook
|
Twitter
Sources
:
GmbH Logo
|
Hennessey Facility Photo
|
About GmbH Article
|
GmbH Story Article