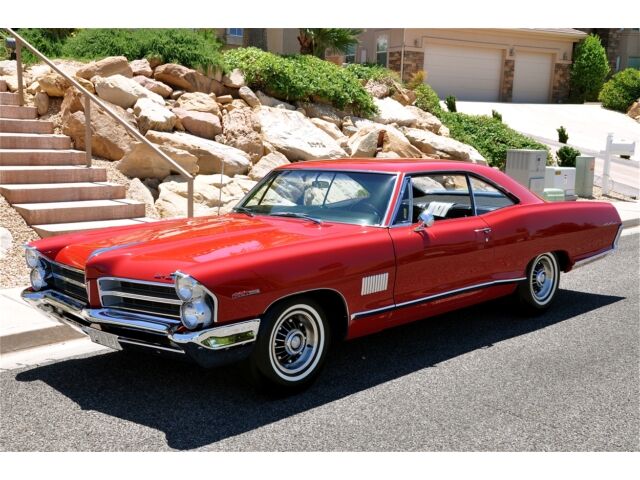 Pontiac Catalina 2+2 : Classic Cars
The 1964 Pontiac Catalina "2+2" was only available in a 2-door hardtop-coupe or convertible configuration and had a 119" wheelbase. They were all front engine and rear wheel drive vehicles. The standard engine was the 389 c.i. V8, with 2-bbl carburetor producing some 283hp and a manual 3-speed transmission with a floor shifter mounted in the center console.
The optional engines were the 389 c.i. V8 with 3-2bbl carburetors (Pontiac's infamous Tri-Power setup) producing some 330hp and the 421 c.i. V8 with 4-bbl carburetor producing some 320hp (plus a few "specially tuned" 421's with up to 370hp were rumored to be produced as well) and an optional Hydramatic, automatic transmission or 4-speed manual transmission were available. Since 1964 was the first year, the "2+2" was basically a "trim" option with special badging including "2+2" on the front fenders, hood and interior. Also some interior upgrades like special door panels, "Morrokide" bucket seats up front and center floor console with vacuum gauge were standard or available options.
For 1965 the Pontiac Catalina "2+2" had a facelift and it's wheelbase increased to 121" which improved handling characteristics. It would also become the most popular and sought after version of all the "2+2's" made. The front fenders capped and were "cut-back" just below the upper headlamp and now contained vertical louvers or "gills" situated behind the front wheel-openings.
The interior upgrades for the "2+2" again included the bucket seats, full carpeting, floor console, special badging and outside had custom pinstriping and special hood and rear deck "2+2" badging and under the hood they had chromed valve covers and air-filter housing. The chassis still came standard with the heavy-duty suspension components like shocks, springs, performance geared rear axle, anti-sway bars and dual-exhaust. (
Read More
)
Contact Classic Cars
Website
|
Facebook
|
Twitter
|
Google+
|
YouTube
Contact Pontiac
Website
|
Facebook
|
Twitter
Sources :
Pontiac Catalina 2+2 Photo
|
Pontiac Catalina 2+2 Article