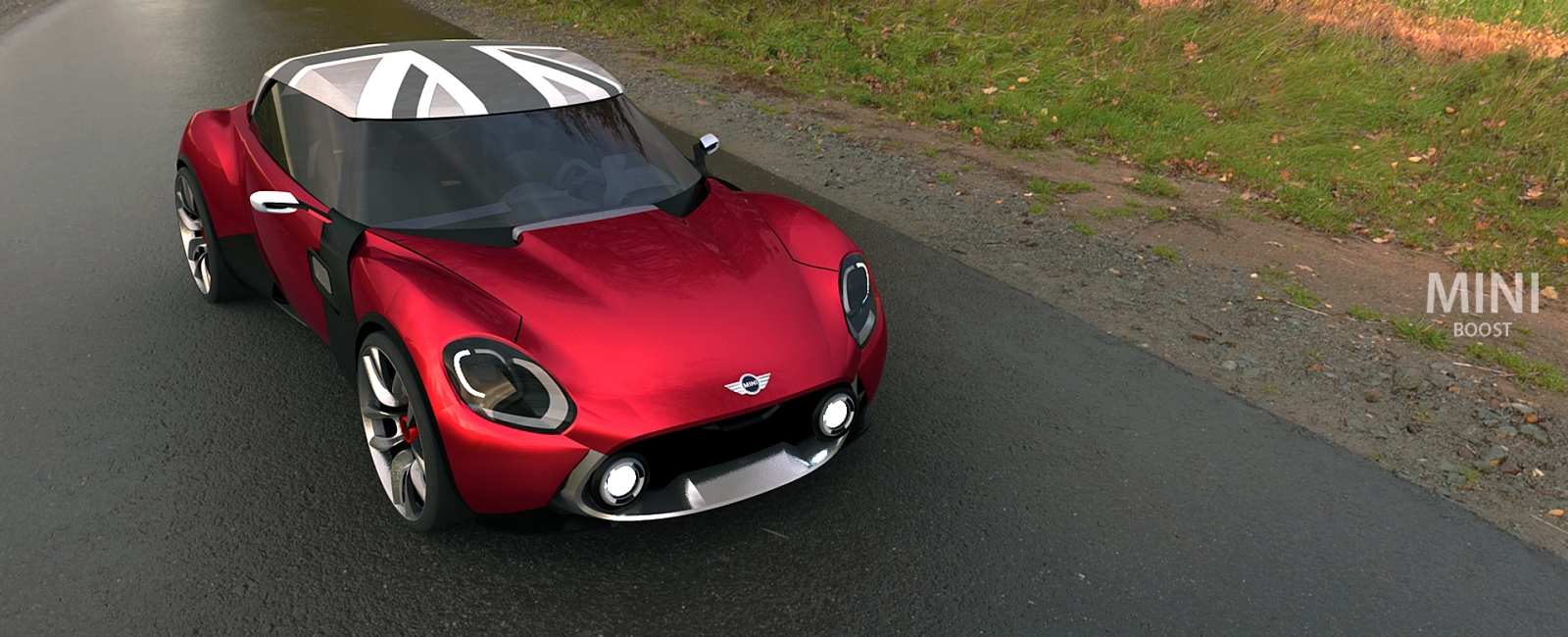 Mini Boost : Concept Cars
With MINI set to unveil the all-new, next-generation MINI hatchback in just a few months, and with the MINI Coupe and Roadster both on thin ice as far as continued production goes, now seems as good a time as any to have a go at creating a new sports car model for the brand. That's obviously what German designer Liviu Tudoran thought too when he came up with the MINI Boost concept.
The MINI Boost would be an entirely new venture for the company. It would be considerably sportier than the current Coupe. Lower, wider, sleeker and immeasurably better looking. The Boost also incorporates some features of the popular Rocketman concept and more recent MINI Vision, in particular the blacked-out body panel just ahead of the door, and the grille arrangement with its integrated driving lights. The MINI Boost also uses an adaptation of the Rocketman's taillights which are set apart from the rear bodywork.
From some angles the MINI Boost looks a little like a Lotus Exige wrapped in MINI clothing. Not a bad look if you ask me. But from other angles, especially the rear, it's hard to find similarities with, well. Anything. Overall it's a pretty unique design.
From the sketches it would appear the MINI Boost would have the honor of being the first MINI to feature scissor doors – if it were produced. On the inside is a futuristic dashboard and a highly unusual steering wheel/instrument cluster combination.
The steering wheel and speedometer are physically connected, and the speedometer sits inside a "cocoon" and turns with the steering wheel. Not only that but the steering wheel assembly rotates around two axis. There's the normal left/right movement all drivers are used to, and then there's an up down rotation that no driver is accustomed to. According to Tudoran, this added movement would increase the responsiveness while turning. Having never tried such a system who am I to say otherwise!
In addition to the inventive steering wheel/instrument cluster combination. The MINI Boost concept also features a head-up display, and an adaptation of the large central circular display found on all modern MINIs.
Contact Mini
Website
|
Facebook
|
Twitter
|
YouTube
Contact Diseno-Art
Website
|
Facebook
Sources
:
Mini Boost Photo
|
Mini Boost Article