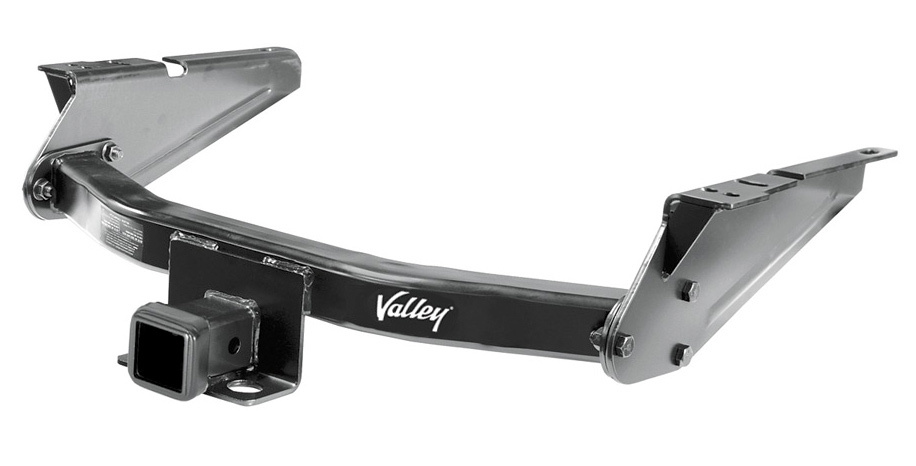 Valley Receiver Hitch : Accessories
When it's time to haul some gear, you need a strong, reliable connection every time. You can always count on Valley Trailer Hitches, whether you're taking a couple bikes to the trail or hauling your horses to the big show. They're built to handle up to 12,000 pound loads, giving you all the towing power you need for every trip.
Valley custom builds your Trailer Hitch to your specific vehicle for easy installation and a perfect fit without bending or headaches. Say goodbye to rust, oxidation, and corrosion - your Valley Hitch is finished with a durable polyester powder-coat paint that stands up to the elements for years of reliable towing.
Bolt on a Valley Trailer Hitch and haul any load for any trip! Valley Hitches are backed with a limited Lifetime Warranty. Depending on your vehicle, some drilling may be required for installation.
Valley
Few things stay the same over time. Empires crumble, technology evolves, and fashion trends change with the weather. It seems that everything spoils eventually. However, Valley Industries is an exception to the rule. This California-based company has been providing the best Trailer Hitches and Ball Mounts on the market for over 60 years. Founded in 1947, Valley Industries first started making hitches for California farmers so they could easily and safely transport their crops to market. Since then, Valley has expanded their operations across 48 states and opened a satellite in Madison Heights, Michigan to better serve the needs of their customers.
Valley's consistency of quality doesn't make their products any less innovative. Valley has remained ahead of the curve in terms of fashion, efficiency and safety for years, and these innovations aren't just limited to Hitches either. Over the years Valley has added just about every towing and hitch accessory under the sun to their catalog. Among the many components made by Valley some highlights include trailer balls, adjustable ball mounts, tow hooks, wiring harnesses, and variety of brake controllers.
Every Valley product is built on over six decades of engineering experience. The company's savvy design team is keenly aware of the needs of their customers. That's why every single one of their hitches, towing systems, and hitch accessories is tested to withstand daily wear and meet the high quality standards of towing enthusiasts.
Contact Valley
Website
Purchase Online
Auto Accessories Garage
|
Amazon
|
Northern Tool
|
Buy Auto Truck Accesories
|
Autoplicity
Purchase National Local Retailer
JC Whitney
|
Valley
|
Lowes
|
Northern Tool
Sources :
Valley Receiver Hitch Photo
|
Valley Receiver Hitch Article
|
About Valley