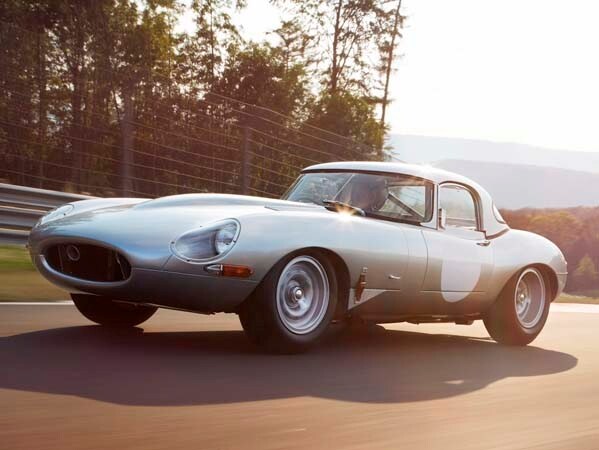 Jaguar Lightweight Returns From '60s : News
Back in 1963, Jaguar set out to produce a limited run of 18 aluminum-intensive racing variants of its striking E-Type. As things turned out, only a dozen of those cars were built. Now, thanks to the efforts of the Jaguar Heritage group which is part of Jaguar Land Rover's new Special Operations division, the final six will be constructed and sold. Crafted to comply with FIA homologation rules for historic motorsport classes, each of these Lightweight E-Type "continuation cars" will conform to the original spec and carry one of the remaining dedicated chassis number plates from the "Special GT E-Type" series project. Pebble Beach marks the debut of a sole "Lightweight" prototype - officially "Car Zero." Currently being used as an evaluation mule, when its track testing and promotional touring is completed, Car Zero will join the permanent collection at the Jaguar Daimler Heritage Trust.
Tradition with a new-age twist
To ensure that every aspect of these six Lightweight E-Type continuation variants remains consistent across the build, Jag engineers created a "grey book" similar to the document used to develop any new JLR offering. Although period-correct materials, bolts and fasteners will be used throughout, digital scanning technology guarantees a greater degree of precision to the actual shape and symmetry of the unitized aluminum body structure - which is some 205 pounds lighter than a production steel E-Type - and the removable aluminum top. About 75 percent of the alloy skin for these cars will be produced in house with the remaining panels created by a specialist firm using Jag-supplied tooling. The Lightweight E-Type rides on a competition-spec version of the standard E-Type's production chassis fortified with upgraded shock absorbers and larger front disc brakes. Its cast-magnesium 15-inch staggered-width wheels are wrapped in Dunlop racing rubber and feature racing-style knockoff center fasteners.
As with the first 12 cars, power for the Lightweight E-Type continuation models will come from a highly tuned version of the firm's 3.8-liter inline-6 first used in the original 1948 XK 120 and later in the Le Mans-winning C-Type and D-Type models. Here, it features a steel-lined aluminum block and dry sump lubrication system introduced on the victorious 1957 D-Type. While the standard induction setup will be a trio of Weber 45 DCOE carburetors, buyers can opt for an alternative mechanical injection system found on Car Zero that was also homologated for the initial batch of Lightweight E-Types. The engine sends its 300+ horses to the rear wheels via a fully synchronized 4-speed close-ratio manual transmission and a Power-Lok limited slip differential.
Built for speed
Beyond a standard steel roll cage, the cabin of the Lightweight E-Type features a wood-rimmed steering wheel and a pair of aluminum racing-type shells covered in the same type of Connolly leather used on the 1963-era cars. Buyers seeking a bit more style will be able to choose from several different trim packages in seven colors while the exterior palette will offer the choice of six standard heritage hues: Carmine Red, Opalescent Grey Metallic, Silver Metallic, Opalescent Blue Metallic, British Racing Green and Old English White. Given the nature of these vehicles, Jaguar Heritage will be glad to offer even more personalization options on request. So far, no word on pricing for a Lightweight E-Type, but we suspect those without seven figures worth of disposable income need not bother.
In commenting on the completion of this classic 50-year old program, Jag's design director Ian Callum noted: "With the Lightweight E-Type, our focus as a design team has been to ensure that justice has been done to the original work of Sir William Lyons and Malcolm Sayer. Meticulous attention to detail has been everything to us in recreating this car, just as it is in our contemporary Jaguars. I believe the result is a new Lightweight E-Type that is as stunning now as the originals would have been when they were new." Speaking of those cars, Jaguar believes 11 of the first 12 Lightweights are still exist and notes that several remain front-runners in various historic racing series.
Contact Jaguar
Website
|
Facebook
|
Twitter
|
Google+
|
YouTube
Contact Kelley Blue Book
Website
|
Twitter
|
Facebook
|
Flickr
|
YouTube
|
Google+
Sources
:
E-Type Photo
|
E-Type Article