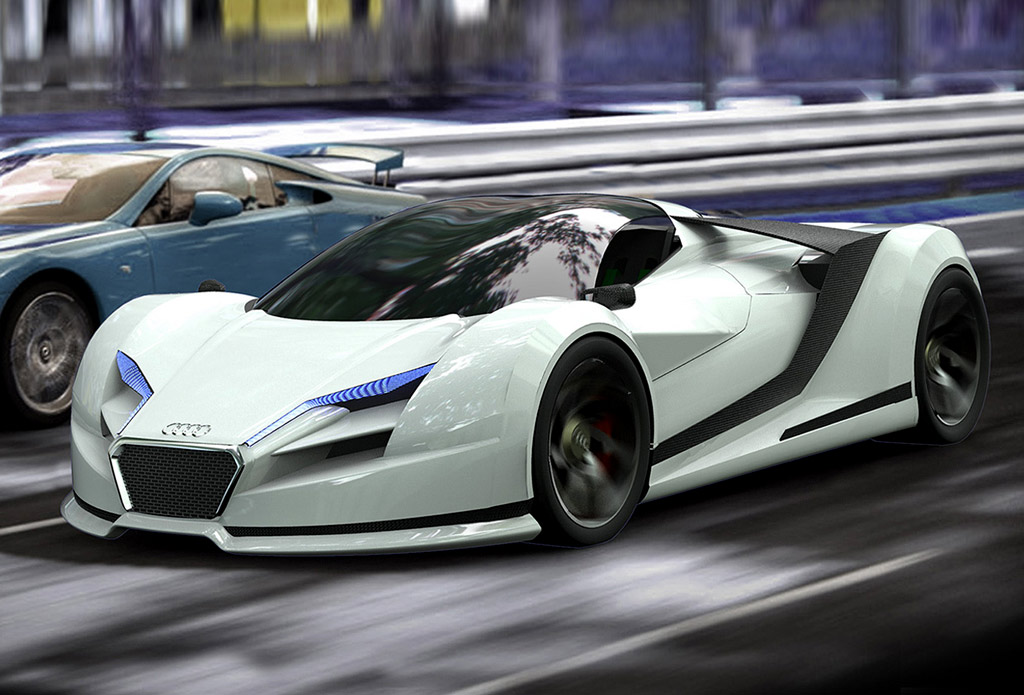 Audi R10 : Concept Cars
When the Audi R8 arrived it was a bit of a revelation. Here was a supercar you could drive every day and it wouldn't catch on fire, shred its clutch in traffic, or embassas its owner with an ill-timed overheating episode. As a bonus it looked good too, those prominent side blades being its most distinctive trademark feature. And of course now there's an established R8 supercar, what's next? Well if Spanish designer David Cava has his way then it'd be an Audi R10.
Cava, who has just finished his final year of Transportation Design at the Universidad Politecnica de Valencia, designed his Audi R10 hypercar concept not as a replacement for the R8, but as a halo car designed to sit above it in Audi's line up. The design was inspired by a variety of sources, including LMP race cars, old F1 cars and jet fighters.
Up front the Audi R10 hypercar concept features a futuristic interpretation of Audi's grille. It's smaller and crisper, and leads back to the slit-like LED headlights which sit above two additional openings. Down the sides the R10 concept has stretched and elongated sideblades which are formed from bare carbon fiber which provide a contrast against the bright white paintwork. At the rear the concept has a neat and tidy tail section which is vaguely reminiscent of the McLaren MP4-12C.
Overall it's a great looking design which nicely compliments the rest of Audi's range.
While the Audi R10 might just be a concept, Cava has picked a theoretical drivetrain for his concept nonetheless. He envisages a twin-turbocharged V8 backed up by electric motors for a combined power output in excess of 900hp. This being an Audi it is of course AWD!
Contact Audi
Website
|
Twitter
|
Facebook
|
Flickr
|
Google+
Contact Diseno Art
Website
|
Facebook
|
Twitter
Sources
:
Audi R10 Photo
|
Audi R10 Article