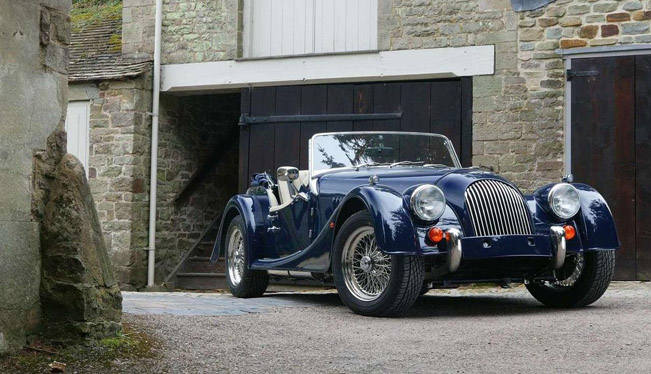 2014 Morgan Plus 4 : Current Models
Niche automaker Morgan Motors has traveled to the Geneva Motor Show to unveil the most powerful variant of the Plus 4 convertible ever built.
Under the Plus 4's long hood lies a Ford-sourced 2.0-liter four-cylinder engine that sends 154 horsepower to the rear wheels via five-speed manual transmission. The feather-light roadster sprints from zero to 62 mph in 7.3 seconds and reaches a top speed of 120 mph.
Fuel economy figures were not published but the 2014 Plus 4 is expected to return noticeably better gas mileage than the outgoing model in spite of the power bump.
The updates continue inside with a new instrument cluster consisting of more modern-looking gauges and a redesigned dashboard. Buyers can choose whether they want two or four seats.
Morgan has not made any changes to the Plus 4's exterior. Essentially a copy of the original Plus 4 that debuted in 1950, the roadster stands out from nearly every other convertible on the road today thanks to a genuinely retro body accented by real chrome trim, bug-eyed headlights and wire wheels.
The Plus 4 will go on sale in England over the coming weeks with a base price of £36,285, a sum that converts to roughly $60,500
In addition to the updated 2014 Plus 4, Morgan is showcasing the revamped 2014 3-Wheeler at the Geneva Motor Show.
Contact Morgan Motor Company
Website
|
Facebook
|
Twitter
|
Pinterest
|
YouTube
|
Google+
|
Email
Contact Leftlane News
Website
|
Facebook
|
Twitter
Sources
:
2014 Morgan Plus 4 Photo
|
2014 Morgan Plus 4 Article