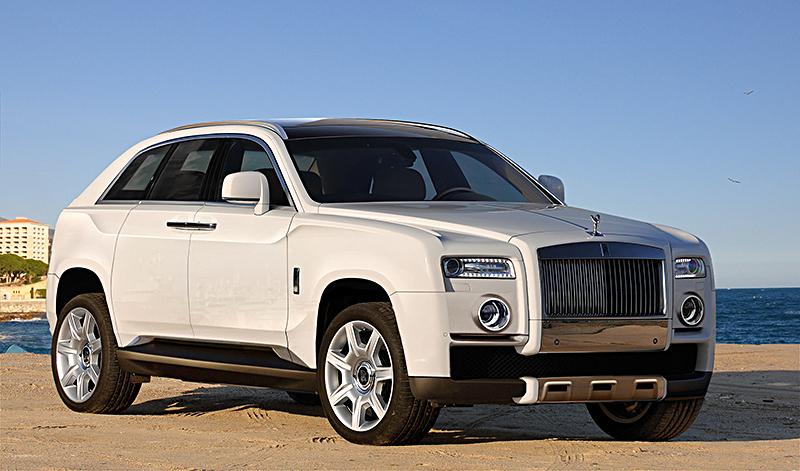 Rolls Royce Suv India : Concept Cars
With potential rivals Range Rover , Bentley and Lamborghini researching aggressively on the new Premium luxury SUV segment , It is to our shear surprise that we hear The mighty Roll's Royce too is in contention . Yes you heard it right the ROLLS ROYCE!
Rolls-Royce boss Torsten Muller-Ötvös has confirmed that there has been a lot of customer enquiries about an SUV and they feel there is a market for It ,but stressed that no decisions had been made as to whether the project would go ahead. It is said that the boom in car sales of other manufacturers in the segment and the increasing customer enquiries is linked to the new talks
He said;
For me, it is less of a question of whether we should do it – the segment is interesting, growing and stable even in times of economic crisis - as opposed to one of whether it fits with the image and brand of Rolls-Royce ,what I can say is that we are currently investigating whether Rolls-Royce can carry such a vehicle - but that absolutely nothing is decided."
Rolls Royce has a long history of creating the most beautiful and majestic cars . It's a huge challenge for the company as a whole to bring everything in the phantom , the Ghost or the Wraith in to a SUV . SUV's how luxurious they are have always been associated with the Sports segment ,something that RR has always stayed away from . In most of our other reviews we tried to bring you a concept of what the car might look like , but this time just thinking about an RR SUV ,was big enough let alone conceptualizing . The only possible thing we made out is a muscular RR phantom , made shorter and taller , standing almost one feet of the ground .
Contact Rolls Royce
Website
|
Facebook
|
Twitter
|
Google+
|
YouTube
Contact Auto Pro Mag
Website
|
Facebook
|
Twitter
|
YouTube
|
Google+
|
Email
Sources
:
Rolls Royce Suv India Concept Photo
|
Rolls Royce Suv India Concept Article