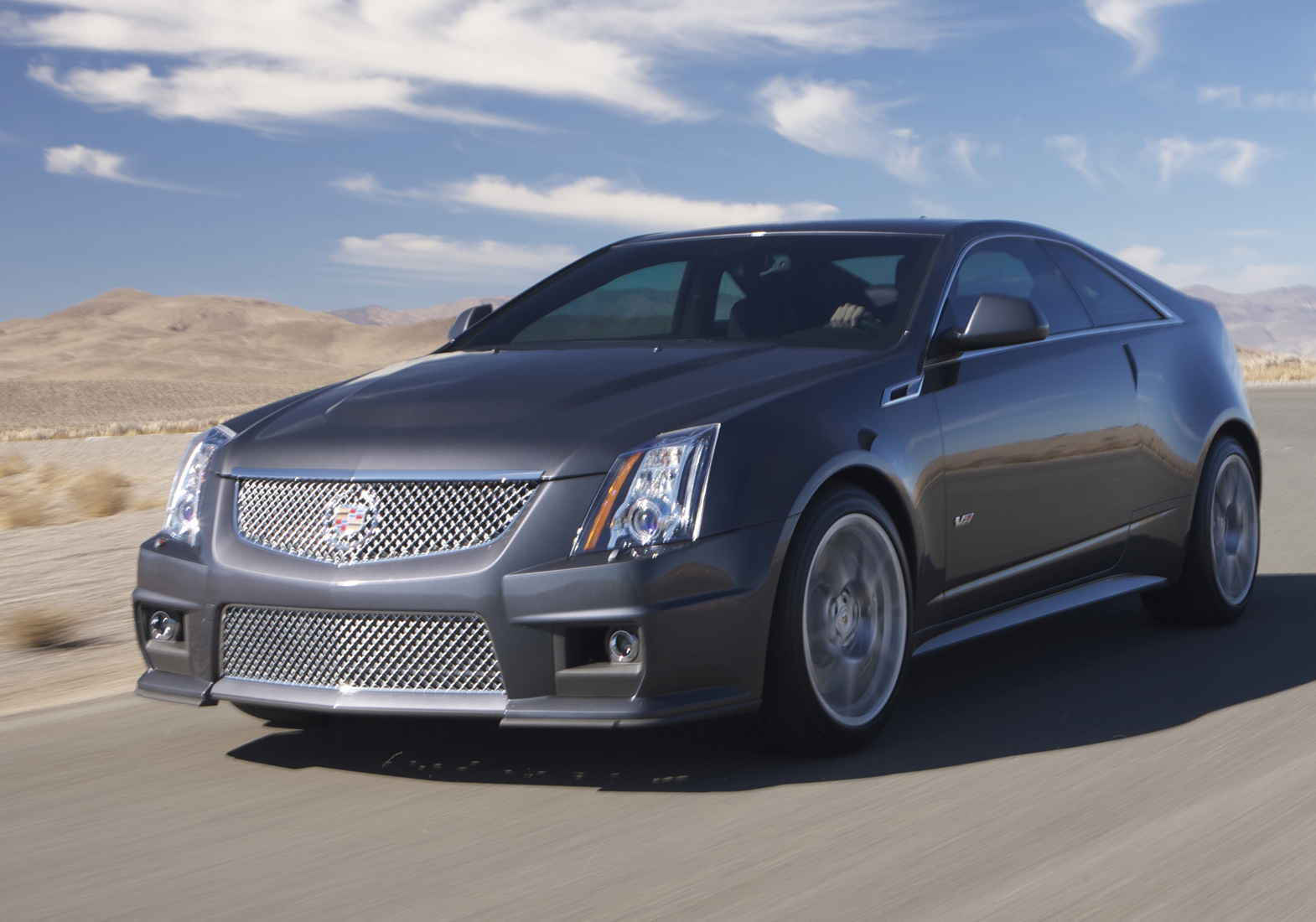 2014 Cadillac CTS-V Coupe : Current Models
Based on a blend of the CTS Coupe and the CTS-V Sedan, the CTS-V Coupe effortlessly combines comfort, style and sharp handling while also packing a 556-horsepower punch.
Like its four-door counterpart, the Cadillac CTS-V Coupe packs GM's ferocious 6.2-liter supercharged LSA V8 motor. This CTS-V Coupe is rated at 556 horsepower and 551 lb-ft. of torque -- and can be fitted with either a six-speed automatic or six-speed manual transmission. With either transmission the car rockets from zero-to-60 mph in around four seconds flat, while fuel economy is rated 14 in the city and 19 mpg on the highway for the stick and 12/18 for the auto.
GM carried its Magnetic Ride Control (MRC) suspension system over from the ZR1 to the CTS-V. The technology uses shocks controlled by electro-magnets, rather than mechanical valves. This makes MRC the world's fastest-reacting suspension technology, according to GM.
Electronic sensors at all four wheels "read the road" every millisecond, making constant adjustments to damping to create a smooth ride when appropriate, and a firm ride when required. The technology prevents body roll during hard corners, yet keeps passengers comfortable while cruising.
Another electronic system -- Performance Traction Management -- is a traction control technology borrowed from championship racing. While most traction control programs monitor and control wheel slip for enhanced drivability in poor conditions, PTM regulates torque delivery to instantly match the available tire grip for maximum acceleration.
Otherwise, the CTS-V is more or less what you'd expect: A two-door version of the CTS-V sedan, or a fire-breathing V-Series version of Cadillac's CTS-V Coupe. Take your pick on which definition you prefer. Keep in mind, however, even though the CTS-V Coupe has the same wheelbase as the sedan, it sits two inches lower in height, has a wider track width and shorter overall length. The windshield is also laid at a faster angle, creating a sleek, athletic profile.
Unlike the three trim levels of standard CTS Coupe, which come with either rear-wheel or all-wheel drive, the CTS-V Coupe comes in rear-wheel drive trim only. The 18-inch wheels found on the base CTS Coupe are also gone, replaced instead by 19-inch wheels wrapped in high-performance tires.
Out back, you will find two large, center-mount exhaust outlets, which channel the growl of this performance coupe's 500+ horsepower massive V8.
The coupe's Brembo brakes feature six pistons per caliper up front and four per caliper at the back. The front brakes were redesigned for the latest model year and feature a new two-piece that saves weight, offers greater resistance to warping and lengthens rotor life.
Standard equipment includes leather upholstery, heated seats, navigation, HID headlamps, Magnetic Ride Control and Brembo brakes.
Several options are available, namely a package with Recaro heated and ventilated front seats, polished 19-inch alloy wheels, "midnight Sapele wood" and a suede steering wheel/shift lever package.
New for the latest model year is the Sport Blue interior package, which brings Twilight Blue leather seating with sueded inserts, sueded steering wheel rim and shift knob, Recaro performance seats and the Midnight Sapele wood trim package.
Occupant Safety
All CTS models come standard with dual front, front side and full-length side curtain airbags in addition to traction and stability control systems and a tire-pressure monitoring system.
Key Competitors
Those looking for a high-performance luxury two-door like the CTS-V coupe should also consider the BMW M3 Coupe and the Mercedes-Benz C63 AMG Coupe as well as the stylish but less powerful Audi S5.
Contact Cadillac
Website
|
Facebook
|
Twitter
|
YouTube
|
Google+
Contact Leftlane News
Website
|
Facebook
|
Twitter
Sources
:
2014 Cadillac CTS-V Coupe Photo
|
2014 Cadillac CTS-V Coupe Article