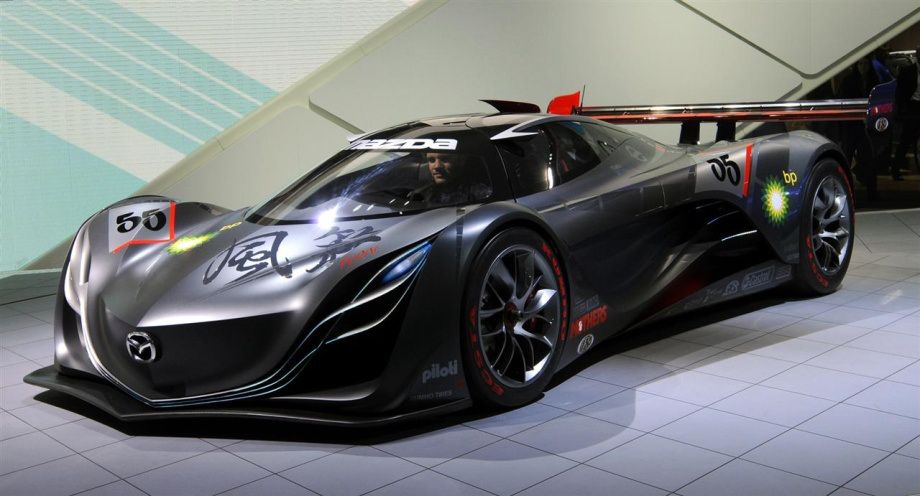 2007 Mazda Furai : Concept Cars
It's called Furai, and designer Franz von Holzhausen says it's supposed to look like streamers fluttering in the wind. It's the fifth concept in Mazda's Nagare (flow) series and the visual realization of zoom zoom. If you say so, Franz.
But then the car comes roaring down Laguna Seca's pit lane. I can't find the words. It looks so...so...bitchin! I've regressed to sputtering seventh-grade superlatives.
Wicked. Sick. Badass, yo.
Furai's a concept that's breathtakingly simple on paper, yet fiendishly complicated in execution: "Let's take a full race chassis and drop a concept-car body on top."
Of course, there's more to it than that -- you need an engine, in this case a 458-horsepower, triple-rotor race-ready unit running on pure ethanol (E100) -- the first rotary to do so. Mazda refers to the rotary/ethanol combo as sustainable zoom zoom -- not that flowing fields of corn will spring to mind when the Furai hits the stand at the rapidly approaching 2008 Detroit auto show.
Furai was developed in an exceptionally short amount of time for a concept. It was birthed in the early summer of 2007 and since then von Holzhausen's team has run the gauntlet at a Furai-ous pace (couldn't resist) to get the car in running condition. With no time to test around the busy design-department schedule, everyone from the clay modelers to the MazdaSpeed engineers were basically crawling over one another to get the car done. For the powertrain guys, that meant getting up at 5 a.m. to be at the track so they could start and run the car for the first time -- this morning.
Thank goodness it's an open-decibel day at Laguna, where we're summoned to check out the Furai in all its flowing glory. Still, I bet the track guys got some calls -- if not about Furai's furious phwooooaaaaarr, then about the chopper buzzing low around the track grabbing video.
In addition to the aerial assault, the video team also brought along a Porsche 911 GT3 as a camera car. Mounted to the hood in a complicated arrangement of gaffers' tape and suction cups is a massive HD camera. Off the back bumper is a duplicate camera mount for lead/follow footage. It's an impressive setup that manages to raise eyebrows even amongst the jaded crew of journalists in attendance. As the Furai starts to flow over Laguna's twists and turns, it's clear the GT3 will be doing a lot of following today, with the Porsche arriving in the pits some 5-10 seconds after the Furai during its shakedown laps. And from what we're told, the Furai's driver is taking it easy.
Contact Mazda
Website
|
Facebook
|
Twitter
|
Google+
|
YouTube
Contact Motor Trend Magazine
Website
|
Facebook
|
Twitter
|
Google+
|
YouTube
|
Subscribe
Sources
:
2007 Mazda Furai Concept Photo
|
2007 Mazda Furai Concept Article