2014 Kia Forte Koup Turbo : Current Models
The Koup is the third debutante in Kia's redesigned 2014 Forte lineup, rolling out on the heels of the four-door sedan and five-door hatch. Even though its clean styling is contemporary in the vein of the Honda Civic coupe and Scion tC with which it competes, the second-gen two-door Forte nevertheless strikes a more conservative pose than does, say, the hipster-baiting Veloster from sister company Hyundai.
The new car shares only its hood and front fenders with its siblings and is longer, wider, and taller than the last Forte Koup, adding more interior space including, critically, two more inches of rear legroom. Further helping practicality on this less-practical body style is a larger trunk with a wider opening than on the last car. A larger vessel usually means a swollen curb weight, but Kia has infused the Koup with more high-strength steel, which can often mitigate such a gain. We'll know if that's the case once we get an example on our scales.
The redesign brings with it a pair of new direct-injected engines. In the base Koup EX, a naturally aspirated 2.0-liter four makes the same 173 horsepower as did last year's 2.4-liter. Our recent drive was limited to the turbocharged Koup SX, which wedges itself into the sports-compact conversation with a 201-hp, 1.6-liter turbo four, an engine it shares with the Veloster Turbo and Kia's own Forte5 SX hatchback. Minutiae junkies take note: This is the first force-fed two-door Kia ever.
As do most modern gas turbos, the Koup SX's Gamma four serves up its torque on a nice wide platter, churning out 195 lb-ft from 1750 to 4500 rpm. Continuously variable valve timing on the intake and exhaust sides adds even more flexibility to an engine that's not particularly fussy about what gear you're in. Take the SX as it comes, and you'll row a six-speed manual; you'll need to tick a box and pony up something like a grand for a six-speed automatic. The former has a numb clutch pedal and a so-so shift feel; gearchanges from the automatic are smooth enough if not particularly hasty. The auto also offers manual control via generously sized steering-wheel-mounted paddle shifters or the shift lever.
Blown, but Not Wasted
Kia says the turbocharged SX has its own special exhaust note, but the noises from the dual outlets are pretty tame by sporty coupe standards. For better or worse, unlike the Focus ST and VW GTI, the Forte doesn't artificially enhance intake sound, either.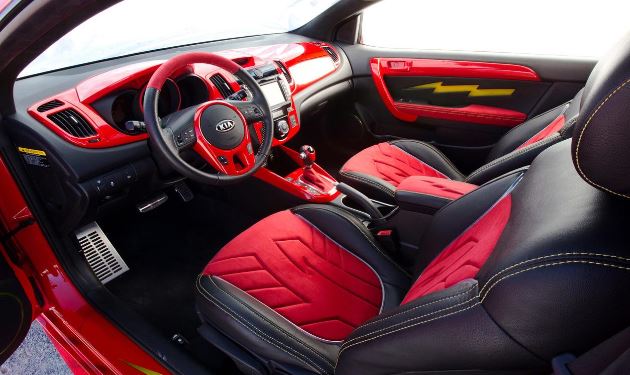 Sound effects notwithstanding, the turbo spools up quickly with little lag on throttle tip-in. There's no torque steer to speak of (Kia damped the shorter front driveshaft), although the turbo Koup will abuse the front tires a bit if you keep the right pedal matted from rest. The tinkerers in Kia's workshop rejiggered the Koup SX's throttle calibration, making it more linear and less abrupt in normal driving compared with the outgoing model.
Punctuating the massive strides this once chintzy brand has made in quality, the Koup is quiet inside, the serenity facilitated by thick carpet padding (of the type usually reserved for clattering diesels), foam blown into the roof pillars and other body cavities, and electronically tuned, active engine mounts. The front seats are generously bolstered (with real French stitching on the SX model) and comfortable for long treks. In typical Kia fashion, the Forte can be ordered with some segment-defying gear, including a heated steering wheel, a ventilated driver's seat, and heated front and rear seats. Taller drivers may, however, want to avoid ordering the headroom-scarfing power sunroof. A backup camera is standard, which is nice because the high rear deck and rising beltline squeeze the rear windows into mere slits.
If you're going to go faster, you should probably stop better, so Kia fits the SX with larger front brake rotors. That's not to say they're autobahn spec, but brake feel is at least linear with decent top-of-pedal response. Befitting the SX's athletic mission, the suspension packs a fatter front anti-roll bar and higher-rate springs, although the shocks are shared with the base EX. We found body motions to be sufficiently damped, with a decent balance of ride comfort and control; the choppiness, jounce, and overall harshness of the previous SX have been exorcised.
All Koups come standard with FlexSteer, Kia's marketing description for three-mode electrically assisted steering. The system adjusts effort among Comfort, Normal, and Sport modes, toggled via a button with a picture of a steering wheel that's on the steering wheel. We actually found Normal to be the most satisfying. Comfort lacks on-center "valley" feel, requiring the driver to saw the wheel back and forth to stay in the center of a lane. Sport mode calms such jitters, but its artificially high effort makes even small directional corrections tiresome. None of the modes delivers adequate road feedback.
Refined and relatively powerful, the handsome 2014 SX Turbo is more satisfying to drive and rides better than the model it replaces, although it might take another generation for such a Koup to scratch the enthusiast itch in the way a Civic Si does. This two-door is probably sporty enough for most shoppers in the segment, and of course, it offers a lot of standard kit for an estimated $23,000. With this latest Koup, the inexorable rise of Kia kontinues.
Contact Kia
Website
|
Facebook
|
Twitter
|
Google+
|
YouTube
Contact Car And Driver
Website
|
Facebook
|
Twitter
|
YouTube
|
Google+
Sources
:
2014 Kia Forte Koup Turbo Photo
|
2014 Kia Forte Koup Turbo Article
|
2014 Kia Forte Koup Turbo Photo 2
|
2014 Kia Forte Koup Turbo Interior Photo
|
2014 Kia Forte Koup Turbo Photo 3