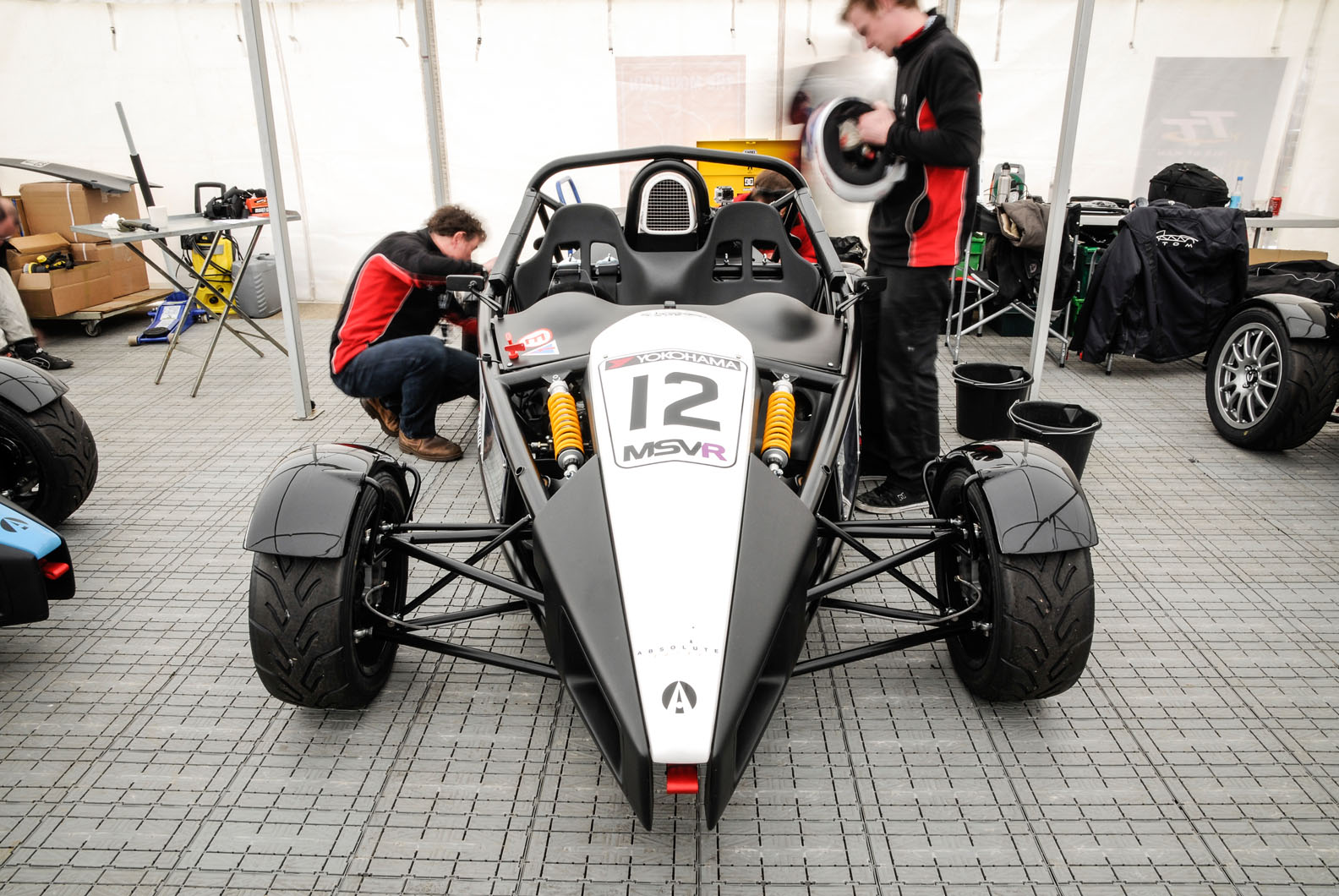 Racing In The Ariel Atom Cup - Picture Special : News
Ariel's new race series harks back to an era in which racers would drive to a circuit and then compete in the same car. We give it a go.

The plan was simple enough. Go to Ariel's factory in Somerset and pick up the car 
you see above: the new Ariel Atom 
Cup.
Drive it to Silverstone, on the road. Take the lights and number plates off it. Race it in the (similarly new) Atom Cup championship. Drive home.
Less 'win on Sunday, sell on Monday', then, and more 'win on Sunday, commute on Monday', which is something that racers tend not to do these days (although we'll get letters from those who do). But the reasons why it doesn't really happen any more are obvious: the need to take kit and tyres to circuits, the fact that it's not the 1950s and the need to get home again afterwards, which means trailers are now de rigueur. And besides, good track/race cars make rubbish road cars, right? Generally, I think so, yes.
But, oh, I dunno, in the cases of a handful of lightweights, I might make exceptions. And one of them, I reckon, as I thread the Atom Cup along a few back roads towards the A303, past Stonehenge and up towards Oxford, is this Ariel Atom Cup.
Oh, sure, because of the camber, and the fact that it's a bit stiff (even though the adjustable dampers have been eased a few clicks softer), the Atom Cup tramlines a bit and hops its way across bigger high-speed lumps and bumps. But the fundamentals of the road-going Atom are retained. The race car uses a naturally aspirated 245bhp variant of the Honda Type R motor, it spins to the good side of 8000rpm, drives through the same six-speed 'box and gets the latest Atom 3.5 steering geometry.
The rest of the changes are just those required to take any car racing: some extra steel tubing, a fire extinguisher, an oil catch tank, electrical shut-offs and so on. Frankly, it remains a pretty pleasant way to make progress on a sunny day, and you could even – given an hour or so – knock the camber back to normal if you really wanted to.
That might, though, dilute the look – and it would seem a shame to spoil people's reactions when they see what amounts to a racing car arrive on a fuel station forecourt. The additional foam fuel tank baffles make filling it a chore, mind.
No matter. On the road, it's fun. And so it is on track, as it turns out. The Atom Cup consists of eight two-race weekends and runs on the Motor Sport Vision racing calendar. Which means that the first two rounds are on Silverstone's full grand prix circuit, around which I initially think an Atom might feel a bit lost.
Not a bit of it, as it turns out. There's so much poke in the Atom that I'm only selecting sixth gear twice, towards the end of the longest straights, and certainly not getting near the end of the Atom's acceleration. The negative camber, meanwhile, means the car really squats onto its (road-legal) Yokohama A048 tyres when cornering.
In the right hands, the car will lap Silverstone in 2min 25sec – about the same as a Ginetta G50 and about 15 seconds quicker than the slick-shod Mazda MX-5 I raced in the Britcar 24-hour race in 2011. On shorter tracks, where it's at less of a drag disadvantage, it'll be faster still.
And even though there are only eight competitors for the opening rounds, the track feels pretty full when I line up for the first race. This is a new series, after all, and it's not exactly the easiest time in the world to launch something that costs quite a lot of money, but interest is good and 12 competitors are expected at the next race.
The car costs £42,000, and a race weekend costs between £2270 and £4370, depending on how well you want to be looked after. Ariel looks after people well. There are cheaper ways to go racing, but Ariel isn't about cheap; it's about delivering a complete product, and that includes decent hospitality for friends and family, to relieve the considerable aches and strains of going racing.
Better than the set-up, though, is the fact that, by crikey, these cars are good fun. In the first race I get a tidy start and into a good dice for second, which I lose and come home third. That means I start race two third (the top five places are reversed), get a dreadful start and fall to seventh, before making it back to fourth. I'm pleased with the results, but more so with the sheer fun of it all.
The Atom Cup cars are a riot, and the fact that they're all the same means racing is close and who finishes where is just down to technique. There's a bit of oversteer (sometimes quite a lot), but it's catchable and exploitable, and these Atoms are fast.
And then, if you fancy it, you can drive your Cup car home afterwards, or to work the next day. What a tremendous giggle.
Contact Ariel Atom Cup
Website
|
Facebook
|
Twitter
Contact Autocar
Website
|
Facebook
|
Twitter
|
Google+
Sources
:
Racing In The Ariel Atom Cup - Picture Special Photo
|
Racing In The Ariel Atom Cup - Picture Special Article